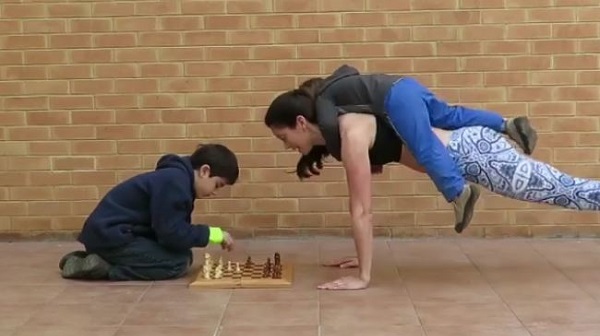 We have to say, we are in awe of multi-tasking mums. If they're not smiling their way through loading four babies into the car, they're working out while bathing their little ones!
If you're reading that last part and thinking, 'I need to see it to believe it', then keep going, because Jennifer Gelman's story is nothing short of amazing.
Jennifer is a mum to four young boys, aged between two and eight years, as well as the founder of fitness company BWMC Fitness – standing for Baby, Where's My Coffee?
A fitness fanatic and trainer, Jennifer reveals on her website that BWMC Fitness was 'born out of her desire to work with parents everywhere, to find the athlete in each of them'.
Admitting that even she struggled at the beginning of motherhood, to find the time to work out between nappy changes and school runs; she realised that she needed to fit exercise around her hectic life – and she has shaped her workouts accordingly.
From working on her abs while playing a game of chess against her son (while another tot lies on her back) to squatting as she bathes her children, Jennifer is truly an inspiration to all mums who just can't seem to find the time to get to the gym.
While she may make it look easy, Jennifer is well aware that her workouts can be tricky – but she encourages her 52K-strong Instagram following to follow it through.
"Working out with a family has its challenges, with interruptions for potty breaks, tantrums and snack requests, but the feeling of accomplishment that comes with the ability to squeeze in a short session far outweighs the crazy moments!" she writes.
What do you think of Jennifer's approach to fitness and exercise? Would you be tempted to follow suit?
SHARE to inspire a fellow exercise-loving mum.