A café in England has caused quite the stir on social media this week, after sharing its stance on 'unruly children'.
In a since deleted post, TYME Coffee Lounge in Glossop, Derbyshire advised parents to take their children outside if they begin to throw a 'tantrum', so as to give peace to other patrons in the café.
"We do ask that the mothers respect the other clients in the coffee lounge and, when their children are screeching and screaming and having tantrums, we would ask the mothers of these children to take them outside until they can behave," the message on the café's official Facebook page read.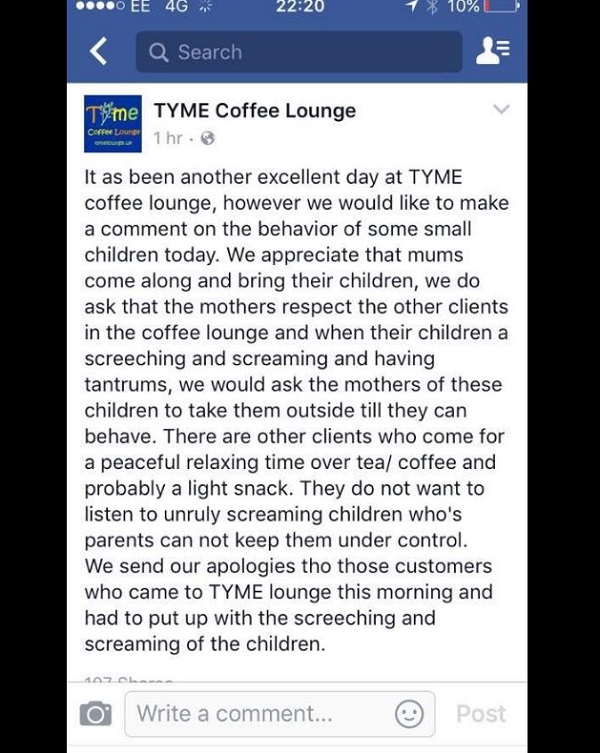 They added: "There are other clients who come for a peaceful, relaxing time over tea/coffee and probably a light snack. They do not want to listen to unruly screaming children whose parents cannot keep them under control."
They then proceeded to apologise to those patrons who 'had to put up with' the aforementioned 'tantrums'.
A mother who had been to the café earlier that day, whose two-year-old son had thrown a tantrum over a cake, later responded after identifying herself as one of 'these mothers'.
In another since deleted post, Kate Raine admitted that she was 'angry, upset and embarrassed' over her treatment by café management, and had been left feeling like a 'terrible mother' because of the Facebook post.
It didn't take long for Tyme's original post to go viral, with parents in the local area and beyond slamming the café for their stance.
Others, meanwhile, have jumped to their defence and applauded them for their tough business approach.
In the wake of the social media circus, a member of Tyme's admin took to the Facebook page to apologise for the original comments and reveal that the person who made them 'has been relieved of their duties'.
What are your thoughts?
SHARE and let us know.