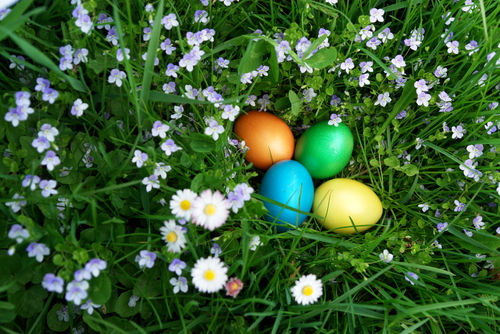 If you have yet to make plans for the Easter break, here are the top events happening across Ireland this Easter from Discover Ireland. These family events will be action-packed, so you can work off all the chocolate you eat on Easter Sunday!
Big Egg Hunt in Dublin
Join the Big Egg Hunt 2013 in Dublin (running until March 15th). Search for 100 uniquely crafter, two-and-half foot high, fibre glass eggs designed and 'laid' by leading artists and celebrities around the city. Egg hunters will receive an 'i-spy' book, with maps and clues for their quest. On March 15th all the eggs will be gathered and put on display before being auctioned. If you find 20 or more you are entered into a draw to win a giant chocolate egg, as well as a pair of diamond earrings.
www.thebigegghunt.ie
.
Munch in Mullingar
Belvedere House in Mullingar, Co. Westmeath, is hosting an egg hunt on March 31st and April 1st. This is a fabulous location for an egg hunt, with three different egg trails across its 160 acres of glorious park and woodland. There is a hunt for every age group, and the Easter Bunny will be on hand to give out prizes. Your little ones will also love the Easter Chick Farm!
www.belvederehouse.ie
.
Have an eggs-citing Easter in Mayo
Westport House in Co. Mayo will see the return of Pinkie Rabbit. He will lead the Easter Egg Treasure Hunt on Easter Sunday, with hundreds of eggs and great spot prizes. Participants are invited to visit the Pirate Adventure Park on the grounds once the egg hunt is over.
www.westporthouse.ie
.
Egg Watch in Wexford
Join the Big Easter Egg Hunt at the Irish National Heritage Park at Ferrycarrig, Co. Wexford on March 29th and 30th. Families are invited to explore the ancient dwellings to look for clues to where the chocolate is hidden. While on the hunt, explore the history of Irish life over 9,000 years and see how people lived
www.inhp.com
.
Easter frolics in Ardagh
There will be lots of Easter family fun at Creative Ardagh at Ardagh Heritage and Creativity Centre in Co. Longford (March 20th – April 1st). There will be an Easter egg hunt in the woods, as well as the Easter themed arts and crafts workshop. Ardagh is picturesque stone walled village that well worth a visit
www.creativeardagh.blogspot.ie
.
Cracking time in Clare
Have a bit of adventure with your Easter egg hunt at Nevsail's Watersports and Rock Climbing Centre in Kilkee, Co. Clare (March 30th). There will be lots of spot prizes including free watersports lessons
www.nevsailwatersports.com
. At the Craggaunowen 'The Living Past Experience' in Bunratty, Shannon Heritage has put together some Easter Sunday fun with bouncy castles, Easter chicks and real live bunnies, as well as delicious chocolate eggs!
www.shannonheritage.com
.
Egg-ceptional fun in Kilkenny
Search for chocolate treasures at the Easter Egg Hunt at Nore Valley Park from March 23rd – 25th. Visit the Pet Farm and check out the adorable real life rabbits, lambs, chicks, ducks, deer, ostriches, and ponies. Parents can have a tea or coffee and home baked goodies from the farm shop
www.norevalleypark.com
.
Crafty Easter in Kerry
Tír na nÓg in Tralee will be hosting one of Ireland's biggest children's events from March 29th - April 1st. There will be family entertainment including a funfair, a teddy bear's picnic and an Easter Bonny Baby competition. Tralee will also host the annual Arty Bits Easter Craft Fair on Easter Sunday. There will be an Easter Egg Hunt and crafts for children, all free of charge
www.tralee.ie
.
Laugh it up in Louth
The National Poultry Races will take place in Carlingford on April 1st. This April's Fool's Day race will see anything that lays an egg take part in race. Children are asked to shoo the birds to the finish line.
www.carlingfordandmourne.com
Magic in Galway
The secret walled garden of Kylemore Abbey in Galway is where the Easter bunny will be hiding his eggs on March 30th. Let the kids hunt through six magical acres for their chocolate prizes, while adults can relax at the tea house for their own treats
www.kylemoreabbeytourism.ie
. Galway City will host the Galway Food Festival where lots of chocolates can be discovered over from March 28th – April 1st
www.galwayfoodfestival.com
.