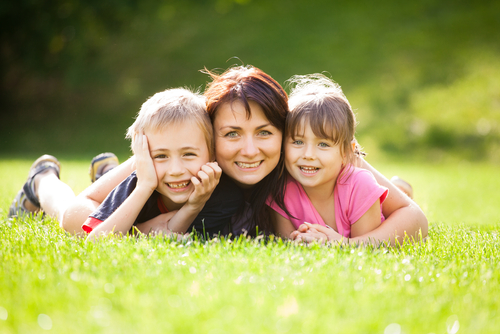 We all know being a mum is a wonderful thing, but the best parts vary for each of us: some cherish cuddles on the couch, some can't get enough of the adventures it brings, while others simply relish in watching their little one growing up.
We asked MummyPages Mums what they felt are the best things about being a mum, and this is what they said:
Toni: "Best thing about being a mum? Those pudgy little baby arms reaching out for you turning into big boy arms that wrap around your waist for a "bear hug". And then having another little boy and looking forward to going through the little changes again."
Cathy, Cambridge: "Looking into your newborn's eyes and wondering what their life has in store for them!! X"
Sammy: "I enjoy watching my two wee men together. They are only 16 months apart and I love to see how they interact with one another. My eldest is so thoughtful and protective over the baby. The youngest loves going to his older brother when something scares him."
Angie: "Definitely big cuddles from my sleepy 17 month old first thing in the morning when he wakes up. Just for a minute until he realises it's breakfast time. Then he's full or mischief and it's so much fun watching him explore everything."
Hannah, Yorkshire: "Too many to name but one of my favourite things is when they don't know you are watching and they are playing nicely together or doing something kind for each other (doesn't happen too often) so I cherish it when it does."
Beth: "Just looking at them and thinking wow I made that! Watching my little man turn into his daddy more and more everyday and loving it. Sleepless nights are worth it however hard they are as the only person who can make baby happy, safe and content is you or your partner. I still look at my boy every day and think he is the most amazing thing and the hardest thing I have ever accomplished in life."
Rebecca: "I just love watching him. He gives amazing cuddles and kisses. He's 17 months and I just love everything about being a mum! He's amazing and it's amazing watching him grow and learn new things everyday! X"
Rachel, Surrey: "Bath time fun xxx"
Paula: "I'm a ftm to 6 month old twin girls. After 5+ years trying and finally having our miracles the best thing for me is watching them sleep. I could sit for hours watching them and repeating over and over "they're actually mine".
Corinne, Wexford: "It's amazing how much your priorities change when you have kids. It's not about being out every weekend or jetting off on holidays every couple of months. It's about the little things, the funny comments, the giggles and all the cuddles and kisses and just spending time together."
Saragh, Kildare: "I was told quite young that I wouldn't have children, which I accepted. Then at 34 I got pregnant with no fertility treatment, out of the blue. She's 3 and a half now and completely my life. I'm still amazed that she's here, and I just can't get enough of her. As a working mama, I hate leaving her. She's a bad sleeper so most nights I end up in her bed, and I love love love waking up to her little hands petting my face. And I love hearing my own words come back to me from the gentle soul of my little girl."
Sharon, Dublin: "Has to be when they start developing their own little personalities , speaking their minds , giving their views , getting annoyed when they can't explain what they mean ...... the sheer innocence XXX "
Lenty: "My son has this laughter and every time I hear him it's magic...he is a quick learner...and just love every bit of development I see in him...."
Clodagh, Clare: "Hearing my baby laugh is the best feeling in the world and makes all the sleepless nights worthwhile!"