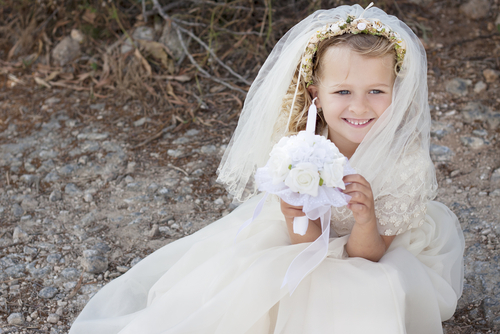 The First Holy Communion is a special day that kids and their parents often can't wait for. While capturing the day on your camera is important, many kids don't like posing in front of a camera, no matter how much you may try and persuade them.
Rather than missing out on the perfect shot, try these tips:
Timing
Make sure you get the timing right. Don't start taking photos when your child is in a rush to get ready or when all they want to do is play with their friends. Before the big day, talk to your little one about how you want to take photos of them, this way they will be prepared for the onslaught of pictures. However, if they are not in the mood, don't push it.
Get the camera ready
Make sure your camera is ready, so when the opportune moment pops up you will be ready. If you are inside the church, make sure your flash is on, but avoid taking pictures with the flash during the ceremony as it can be really annoying for others. Have it on auto focus as your child will be moving around alot and change it to indoors, outdoors or night settings depending on the time of day and where you are.
Pictures
If your little one is reluctant to pose for a photo, try to make sure the ones you take are worth the effort. These three photos are the ones you will treasure: a photo of your child in the house getting ready, a family shot outside the church and one with all their friends. The picture with their friends will probably be the easiest to persuade them to do.
Poses
If your child is a little reluctant, avoid the posing shot - while they are nice it is often not worth the hassle. Take photos of them chatting with their friends, when they are looking away from the camera or when they are walking down the aisle. In fact, these shots can end up being the best snaps of the day so don't worry about the lack of posing shots.
Make it fun
Make sure the picture is fun, so snap them running, jumping or playing with friends. You will really be able to capture your child's personality when you get them to have some fun.