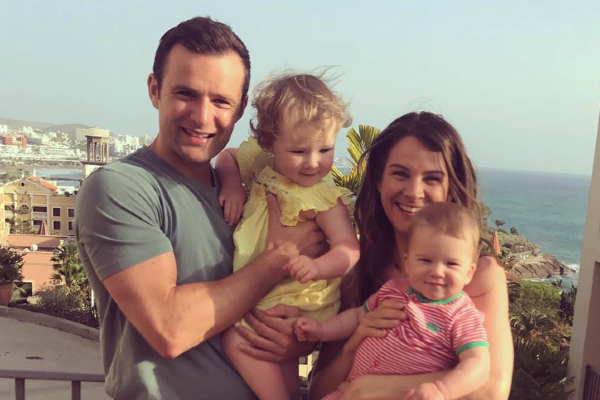 Picture via Instagram
In vitro fertilisation (IVF) has brought hope to many couples struggling with fertility issues, including Harry and Izzy Judd. It's a big decision to undergo IVF, but one that Izzy says she is so overjoyed she made.
The former Escala violinist was diagnosed with polycystic ovarian syndrome, and told that she may never conceive without IVF. She also experienced a miscarriage before having two-year-old Lola.
Now, though, she and Harry are parents to Lola and eight-month-old Kit. Several days ago, the mum celebrated the first time she 'met' Lola as an embryo. Izzy shared a photo of herself and Lola walking together, and then a photo of her embryo, to honour the occasion.
"Life is a miracle," she wrote, "Lola, on the 29th April 2015 we met you for the first time. We drove to the fertility clinic after hearing the news earlier that morning that you, our frozen embryo had survived. We couldn't wait to see you and put you back home. "
The 34-year-old says that, to this day, seeing the photograph of Izzy as an embryo amazes her:

"I can't look at this photo of you as an embryo without feeling blown away. I wouldn't change a single thing about how you were conceived because without going through everything we did we would never have met you."
As well, the musician had loving words for others going through IVF:

"IVF is the greatest gift and to those walking this path too, I want you to know you are not alone. No one can tell you your future, but you have control over how you walk down your own path. The mind is your greatest tool and can be your kindest friend if you allow it to be.
"Take one step at a time, hold hands with those you love and let go of those who hold you back, this is your time to put yourself first. Always have hope but most importantly believe in yourself."
Her words certainly touched her followers, some of whom shared their own stories in the comments.
"Thanks so much for opening up about your journey. Reading it has been like someone has put their arms around me and told [my partner] and me that everything will be ok. I've been able to embrace our IVF treatment as part of our life's beautiful story to be told," one person shared.
"IVF is the toughest path, but worth it," an Instagram user wrote, "After two failed attempts we were blessed on our last chance with our son. He turns seven this year."
Another said simply, "Love how much you talk about your experiences... gives us all hope."
We so appreciate Izzy's bravery and her support for others on their own IVF journeys. While it's wonderful that IVF is being spoken of so positively, we know that every woman and family have their own individual experience of it.