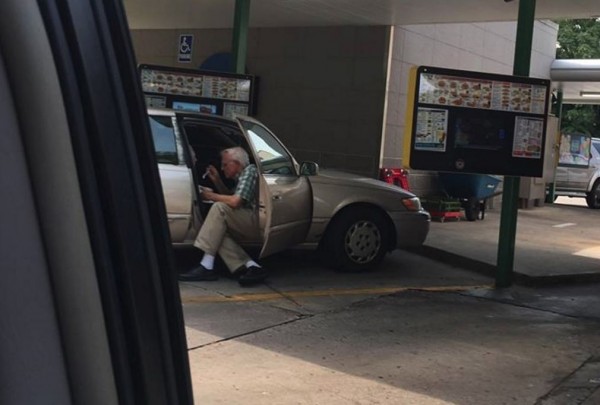 Every now and then, a powerful photo will stop us in our tracks – thankfully, the image that has us so captivated today, is doing it for all the right reasons.
A photograph depicting one elderly man's 'beautiful display of love' for his wife has gone viral this week.
The image was shared by dad Brent Kelley, and was captured as he made a pit-stop at an ice cream store with his children.
In a Facebook post, Brent explained that he was on his way home from a day at the local pool recently, when he stopped off to get his kids some ice cream.
When he looked to the left, he saw an old man crouching next to the passenger-side door of his car – and the reason why warmed Brent's heart.
"I realised that this elderly man beside me was sitting outside his car door, spoon-feeding his wife ice cream, who also looked in her late eighties," he wrote.
"He draped a towel over her, and slowly fed his bride in the 98-degree temperature. It was a beautiful display of love."
As you can imagine, the image has touched hearts and minds across social media, garnering over a quarter of a million shares since its upload, yesterday.
The comment section is now full of loving comments from people all over the world; some who have even been moved to tears by the touching image.
"This is how I want to be," wrote one Facebook user, while so many others branded it as the perfect depiction of 'true love'.
Another chimed in, writing: "Everyone needs this kind of love." We couldn't agree more!
One of the most powerful responses came from one Robert Graham, who had an interesting insight into the photo and why it went viral.
"In today's society, there is a lack of love, and people are hungry for it. The husband was demonstrating his love, probably because his wife's health is failing and she couldn't gain the strength to feed herself.
"It's likely that they don't get out much, and it took everything she had to get from the house to the car…Clearly, the husband loves his wife unconditionally."
Excuse us while we wipe something away from our eye!