The shortlist for the KPMG Children's Books Ireland Awards 2021 has just been announced and it is full of incredible writing for children and teens! Featuring many of our favourites, the list is a gold mine of fantastic reads, guaranteed to capture any child's imagination and spark a love of stories.
The KPMG awards have been running since 1990, and promote excellence in Irish writing and illustration for young people. There are six awards up for grabs; The Book of the Year Award, The Honour Awards for Fiction and Illustration, the Judges' Special Award, the Junior Juries' Award, and the Eilís Dillon Award for a first children's book. Of the eight books, six will be honoured with these awards and they'll be announced by Rick O'Shea in an online ceremony in May as part of the International Literature Festival Dublin.
And the shortlisted books are...
'Míp' by MáireZepf and illustrated by Paddy Donnelly
'Hope Against Hope' by Sheena Wilkinson
'Savage Her Reply' by Deirdre Sullivan and illustrated by Karen Vaughan
'The Monsters of Rockhaven' by Pádraig Kenny illustrated by Edward Bettison
'The Falling in Love Montage' by Ciara Smyth
'The Boldness of Betty' by Anna Carey
'The Haunted Lake' by P.J Lynch
'Why the Moon Travels' by Oein DeBhairduin illustrated by Leanne McDonagh
A true tasting board of all that Irish children's writers have to offer, this selection highlights the themes that are preoccupying readers and writers at the moment. Looking to the past and through history is a major trend coming through at the moment, with Anna Carey's 'The Boldness of Betty' centring around the 1913 lockout and Sheena Wilkinson's young adult novel 'Hope Against Hope' focusing on Belfast in 1921 in the Civil War. Deidre Sullivan's 'Savage Her Reply' looks to the myth of The Children of Lir for inspiration for her young adult book, penning a fantastic feminist reimagining of the story from the stepmother's point of view, while Ciara Smyth's coming of age novel 'The Falling in Love Montage' presents us with a witty but deep examination of how we can't control everything.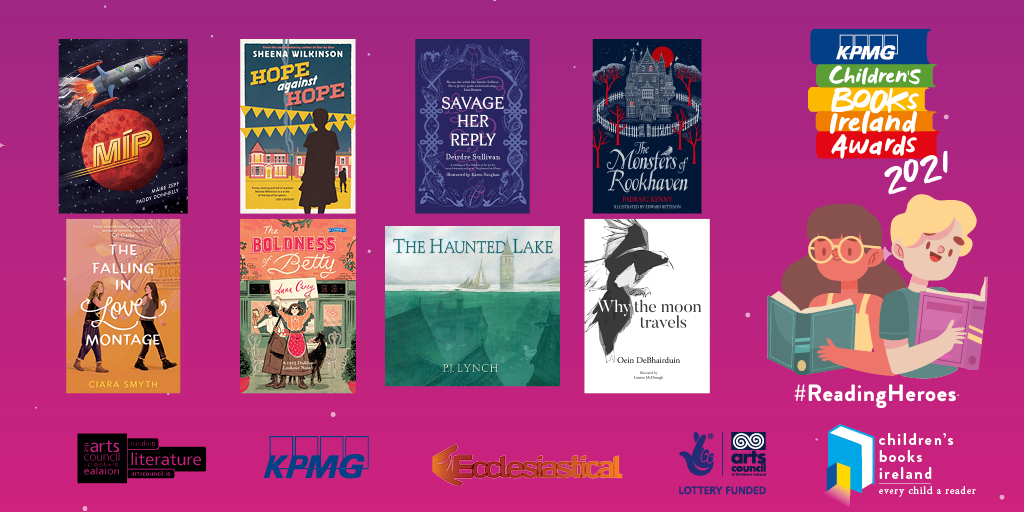 A focus on Irish language and traditions comes through in the younger children's work, with Míp by Máire Zepf detailing the space adventures of Míp the robot through Irish, and Oein DeBhairduin's 'Why the Moon Travels' sharing the stories of the Irish Traveller communities. Ghostly, monstrous forms tell the story in Pádraig Kenny and Edward Bettison's 'The Monsters of Rookhaven' and 'The Haunted Lake', by world-class illustrator P.J. Lynch. With such variety, there's a book to snag any child's attention, especially as these books have all been approved by children all around Ireland, the competition's 'Juniour Juries'. Check out the list below for further details and the judge's comments on the books;
'Míp' by MáireZepf and illusrated by Paddy Donnelly (Futa Fata)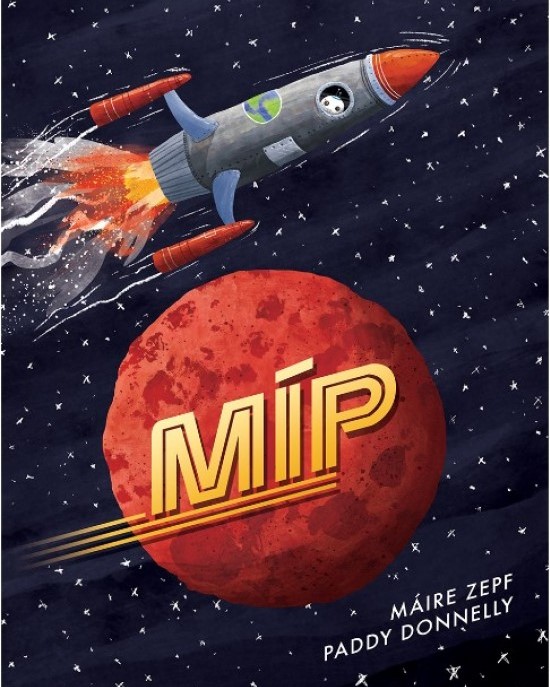 Is í MÍP an róbat is cliste dár déanadh riamh. Tá sí á seoladh go Mars, le fáil amach an bhfuil eachtráin ina gcónaí ann. Tógann sí go leor pictiúr ann agus cuireann ar ais chuig an Domhan iad, ach cá bhfuil na heachtráin? Ansin, tarlaíonn tubaiste. "Tá Míp bhocht réidh," a deir na heolaithe. Ach an bhfuil?
Based on real events, (mostly!), the story of brave MÍP, the hardest-working robot in the solar system, is a tale that will inspire earthlings of all ages. For younger readers.
The judges said: When scientists send their hardworking robot Míp on a mission to Mars, they've great hope that she'll make significant discoveries; ach ní raibh eachtrán le feiceáil in áit ar bith. Or so it seems to Míp – but not to the reader. This humorous and dynamic picturebook is an excellent example of counterpoint at its best, with words and pictures telling different stories. Zepf and Donnelly show respect for child readers in this playful and accessible narrative where younger readers know a lot more than the clever scientists.
'Hope Against Hope' by Sheena Wilkinson (Little Island)
The year is 1921. Ireland has been at war for two years. Communities are torn apart by bitter hatred - and now a hard border splits the island. In Belfast, Helen's Hope hostel is a progessive space where young women live and work together - a haven of tolerance and diversity in a fractured city. But some people hate Helen's Hope and its values. Another pitch-perfect historical novel from the prize-winning author of Star by Star. 'Funny, moving and full of wisdom, Hope Against Hope shows Sheena Wilkinson is a writer at the top of her game.' - Jan Carson, author of The Fire Starters, winner of the EU Prize for Literature 2019. For teen readers.
The judges said: This remarkable historical novel is the funny and moving story of Polly, who runs away to Helen's Hope hostel in Belfast and lives in a cross-community feminist space of tolerance and inclusion. Set in 1921, when Ireland is at war with Britain and a border is introduced on the island of Ireland, this is an original and expertly written exploration of an aspect of Irish history largely ignored in children's literature. Wilkinson's skilful prose captures the sense of the unknown as characters face prejudice and violence while struggling to remain hopeful for their future on a divided island.
'Savage Her Reply' by Deirdre Sullivan and illustrated by Karen Vaughan (Little Island)
A dark, feminist retelling of The Children of Lir told in Sullivan's hypnotic prose. A retelling of the favourite Irish fairytale The Children of Lir. Aife marries Lir, a king with four children by his previous wife. Jealous of his affection for his children, the witch Aife turns them into swans for 900 years. Retold through the voice of Aife, Savage Her Reply is unsettling and dark, feminist and fierce, yet nuanced in its exploration of the guilt of a complex character. Voiced in Sullivan's trademark rich, lyrical prose as developed in Tangleweed and Brine - the multiple award-winner which established Sullivan as the queen of witchy YA. Another dark & witchy feminist fairytale from the author of Tangleweed and Brine. For teen readers.
The judges said: Many of us may be familiar with the story of Lir's children, transformed into swans and forced to travel from lake to lake for hundreds of years, but what of their stepmother's version of events? This fantastic re-versioning of the myth from Aífe's perspective offers an insight into her mistreatment at the hands of Lir and her reasons for seeking revenge. Written in wonderfully lyrical prose, this is a tense and haunting tale that explores heartache, loss and forgiveness, while giving voice to a woman silenced for generations.
'The Monsters of Rockhaven' by Pádraig Kenny illustrated by Edward Bettison (Macmillan Children's Books)
'Humans, as is there wont, have a terrible habit of making a mess of everything.'
Mirabelle has always known she is a monster. When the glamour protecting her unusual family from the human world is torn and an orphaned brother and sister stumble upon Rookhaven, Mirabelle soon discovers that friendship can be found in the outside world.
But as something far more sinister comes to threaten them all, it quickly becomes clear that the true monsters aren't necessarily the ones you can see.
A thought-provoking, chilling and beautifully written novel, Pádraig Kenny's The Monsters of Rookhhaven, stunningly illustrated by Edward Bettison, explores difference and empathy through the eyes of characters you won't want to let go.
The judges said: Mirabelle is a monster who lives with her family (also monsters) in Rookhaven, a mansion protected from the outside world. That is, until two humans – Jem and Tom – stumble into her life. Kenny's gripping narrative – with wonderfully eerie illustrations by Bettison – draws upon established gothic and horror motifs in providing readers with an utterly original adventure. Full of darkness and light as well as brilliantly realised characters, this is a page-turner that explores ideas of acceptance, tolerance and true friendship.
'The Falling in Love Montage' by Ciara Smyth (Andersen Press)
Saoirse doesn't believe in love at first sight or happy endings. If they were real, her mother would still be able to remember her name and not in a care home with early onset dementia. A condition that Saoirse may one day turn out to have inherited. So she's not looking for a relationship. She doesn't see the point in igniting any romantic sparks if she's bound to burn out.
But after a chance encounter at an end-of-term house party, Saoirse is about to break her own rules. For a girl with one blue freckle, an irresistible sense of mischief, and a passion for rom-coms.
Unbothered by Saoirse's no-relationships rulebook, Ruby proposes a loophole: They don't need true love to have one summer of fun, complete with every cliché, rom-com montage-worthy date they can dream up—and a binding agreement to end their romance come fall. It would be the perfect plan, if they weren't forgetting one thing about the Falling in Love Montage: when it's over, the characters actually fall in love… for real. For teen readers.
The judges said: Everything is about to change for Saoirse: her mother is ill, her father intends to remarry and she has one summer left before she heads off to university. When she meets Ruby and they embark on what Saoirse hopes will be a short-term and light-hearted romance, things don't go according to plan. Unafraid to engage with darker themes, Smyth writes a brilliantly witty, clever and funny coming-of-age narrative centred on a young protagonist with a clear and distinctive voice.
'The Boldness of Betty' by Anna Carey (The O'Brien Press)
It's summer 1913 and Betty Rafferty is fed up. Forced to leave school aged 14, Betty is considered lucky when she gets a job in a sweet shop. After all, her da and her older brother Eddie are both working hard down on the docks in all weathers. But Betty is bored at the shop, and looks with envy at her customers who attend the posh girls school on nearby Eccles Street.
But life in Dublin becomes anything but boring when industrial unrest brings the city to a halt. Betty is shocked when her brother Eddie is badly injured by a police charge. The city becomes increasingly violent - and hungry. Betty has never seen anything like the violence and is horrified when employers start locking out workers who refuse to abandon the trade union.
As the Lockout continues into the bitter winter months, people are beginning to starve. Dora Montefiore sets up a Save the Kiddies scheme, and Betty's sister Lily looks to take baby Robbie to safety in England. But the Irish Church has other ideas ...
The judges said: Set in Dublin in 1913, this the tale of young Betty Rafferty who leaves school to work in a cake shop, only to end up on the picket line as the whole the city goes on strike. This is an extremely well-researched book that really brings the period and the city to life. Carey's brilliant characterisation of Betty has the reader rooting for her throughout. This narrative of social solidarity fittingly resonates with debates in contemporary Irish culture and reveals the hope and potential that accompanies positive action.
'The Haunted Lake' by P.J Lynch (Walker Books)
Jacob and his father are the only people who fish Lake Spetzia, which was formed when the river was dammed and their town was flooded. The villagers say the lake is haunted, but Jacob and his father don't want to leave, because Jacob's mother is buried in the cemetery below the water. As Jacob grows up, a village girl named Ellen falls in love with him, and he with her. But before they are married, Jacob disappears—lured underwater by the ghosts who inhabit the sunken village. Years go by, with Jacob held captive by the watery spirits and Ellen never giving up hope that she will find him, until a fateful night when Jacob sees the light of Ellen's boat floating above. Can he break free and reach the surface? Masterful illustrations alive with achingly expressive characters and eerie underwater light bring readers into acclaimed creator P.J. Lynch's rich world of love, loss, and hope. Readers aged 7+.
The judges said: Jacob and his father, Reuben, are the only people brave enough to fish on the mysterious lake created when a dam was built and a town flooded. On land, Jacob falls for a young girl named Ellen, but something keeps drawing him to the lake late into the evening. This tale of love, loss and perseverance told by Lynch through words and masterful illustrations, bringing the reader on a ghostly journey from the world of the living to the eerie depths of the town that lies beneath.
'Why the Moon Travels' by Oein DeBhairduin illustrated by Leanne McDonagh (Skein Press)
Why the moon travels is a haunting collection of twenty tales rooted in the oral tradition of the Irish Traveller community. Brave vixens, prophetic owls and stalwart horses live alongside the human characters as guides, protectors, friends and foes while spirits, giants and fairies blur the lines between this world and the otherworld. Collected by Oein DeBhairduin throughout his childhood, retold in his lyrical style, and beautifully illustrated by Leanne McDonagh. For reader 10+.
The judges said: The twenty stories in this extraordinary collection come from the Irish Traveller community, the Mincéirí, the Pavee. Collected by DeBhairduin and retold with passion and lyricism, these are tales of giants, foxes and owls, of friendship, love and hunger, of famine, heartache and loss. In these stories, this world and the otherworld are intertwined, the personal is often used to explore the universal, and storytelling becomes a means of making sense of our surroundings. This is a beautifully written and ground-breaking book, celebrating and sharing a rich tradition that may be unfamiliar to many readers.