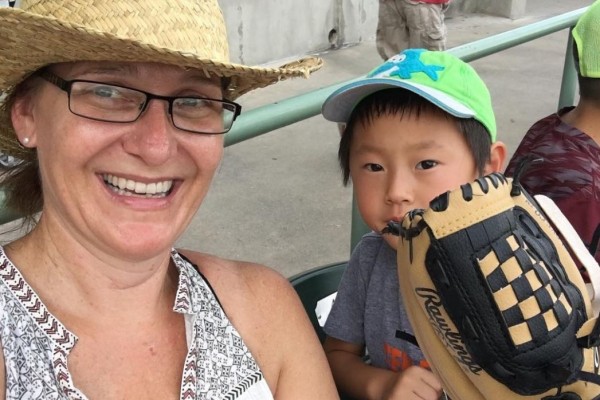 Mother's Day may have been and gone at this side of the Atlantic, but over in the US, proud mums are counting down the days until their own special occasion, on May 14.
As she looks forward to her big day, mum Jill Robbins has once again been struck by a whirlwind of emotions, and has been moved to share the story of why she buys two extra cards each Mother's Day.
Jill, who blogs at Ripped Jeans and Bifocals, explained: "I have three kids – my two sons are adopted from China, and my daughter…well, she came into the family the regular way.
"I write my sons' birth mothers (yes, there are two different birth mums) a card every year. I've done this every year that we've had them. I write little snippets of what they've done and accomplished every year, what their challenges and accomplishments have been.
"I re-read my words, and then I seal the cards. And then I put them away in a shoebox that sits on my closet shelf, because I don't know what else to do with them. I don't have any place to mail these cards, you see."
As there is no such thing as a Chinese adoption, Jill has no way of contacting her little boys' birth mothers. She needed a way to connect to them, though, as she – like them – knows exactly what it's like to love your baby, to carry them and bring them into the world, and to love them 'fiercely'.
"I know my boys' birth mothers waited and watched until their babies were taken to safety. I KNOW. I just do. I know they loved these children, and I know their actions were something they deemed necessary. I don't need to know the reasons. Their motives don't need to pass any sort of litmus test with me," she explained.
While this annual gesture is one way for Jill to get some comfort when considering her sons' birth mothers, she wants to pass her own message of love to others, too.
"Adoption is complicated. You might know someone who is a mum through adoption. You might know someone who has made an adoption plan…AKA given up their child for adoption. Hug all those mamas. Hug them tight. No matter how you slice it, mamas do hard things," she added.
Above all else, Jill wants all those mothers reading her post to know that they are 'not alone in those reflective moments'.