If you want your child's birthday party to stand out from the rest then here is a fabulous idea that every child at the party will adore. The Sweet Treat Co. provide custom-designed candy buffets for parties across the country. These candy buffets are a must have for any party.
A personalised candy buffet not only will gives the birthday boy or girl a party to remember, but it saves mums the hassle of buying a large selection of sweets. So you don't have to worry about having enough treats for your guests or about the party bags for when they go home.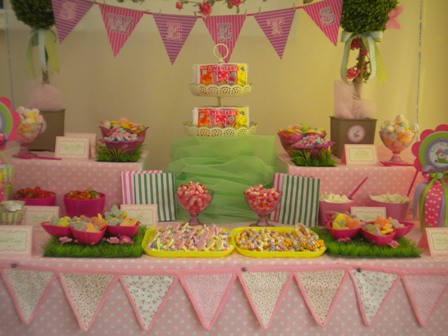 The sweets can be selected to fit the theme of the party. Everything from the jars and scoops, to the buffet table decorations and the sweets themselves can be colour co-ordinated and personalised to fit the occasion. And adults will be kept happy too as the candy buffet can provide hard-to-find sweets that were once popular, bringing parents back to their childhood.
Included in the selection of sweets are chocolate caramels, lemon bon bons, fruit pastilles, milk chocolate éclairs, wine gums, white mice and much, much more.

These colourful displays of goodies will instantly bring a smile to kids' faces and make your child's birthday party extra special.