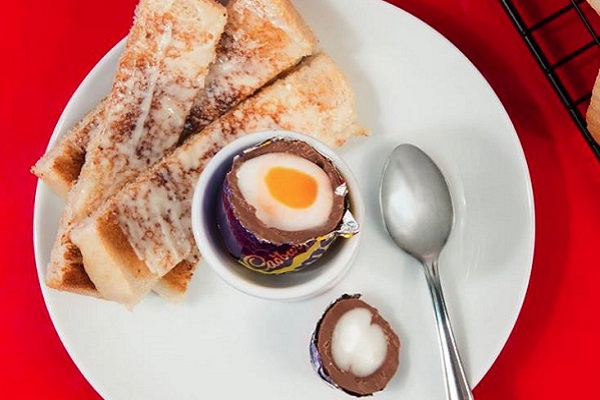 The Cadbury Creme Egg Hunting Lodge will open its doors next Monday, February 27, for the annual meeting of the Creme Egg Hunting Society.
The Society is inviting young Creme Egg fanatics to join them on their quest to hunt, catch, and eat the tasty treats!
Following a successful egg hunt, hunters will get to tuck into a three-course feast with some of the gooiest Creme Egg campfire classics ever created, such as indulgent Creme Egg S'mores and sumptuous Creme Egg hot chocolate.
The event is for people over 16, so it is the perfect way for your teens to celebrate Easter, without feeling too immature.
Tickets to the café are available now, and spaces are limited per sitting, so booking will be essential.
There will be very limited availability for walk-ins throughout the week; and while entry is free to the lodge, guests will be able to make a donation to national mental health charity Aware.
"We are delighted to be celebrating Creme Egg Hunting Season with the Hunting Lodge this year. We can't wait for Creme Egg's biggest fans to immerse themselves in a unique experience and taste their favourite treats in ways they may never have imagined before!" said Jonathan Ryan, Brand Manager at Mondelez Ireland.
The Cadbury Creme Egg Hunting Lodge will open for a limited time only from Monday, February 27 to Saturday, March 4, with one evening sitting available daily from 6.30pm – 8.00pm.
For those not able to make it down, fear not, as Cadbury Creme Eggs are back on shelves and are available until Easter.