To help you celebrate the main man in your life this Father's Day, the following places are offering food and drink specials.
From complimentary cocktails to free popcorn, there are plenty of ways to show the dads in your life just how much you appreciate them - one restaurant is even letting fathers eat for FREE!
1. Tomahawk Steakhouse
Tomahawk Steakhouse in Temple Bar is the perfect spot for a special affair to treat your dad. Dinner guests this Father's Day will enjoy a signature 'Old Man Fashioned' cocktail, made with Bulleit Bourbon, Angostura Bitters and Orange Bitters. Dinner starts from 5pm, bookings available at www.tomahawksteakhouse.ie.
2. Dollard & Co.
Treat your dad to something really special with his very own dry aged steak. Drop by the Dollard & Co. butcher counter, select your steak or cut of fine Irish beef and butchers will put your dad's name on it and hang it in the dry ageing chamber for as long as you like. The current record is 102 days! Then just pop in when you want and the butchers will trim and prepare it for you to take home.
3. Elephant & Castle
If your dad is a wing man, there is no other place for him than Elephant & Castle in Dublin's Temple Bar. Here they'll treat him to a complimentary Irishtown Craft Beer while he enjoys their world famous wings. Valid for all dads when a main meal and kids meal is purchased.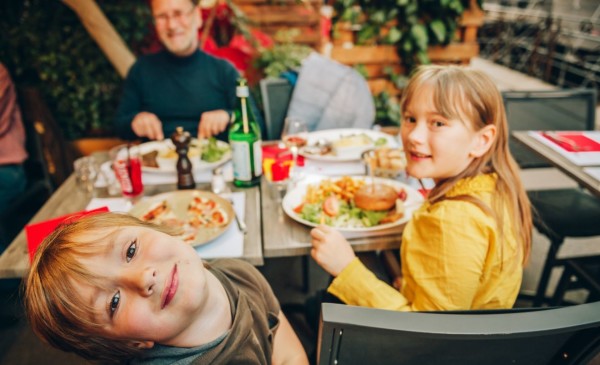 4. Captain America's Cookhouse & Bar
Family favourite Captain America's Cookhouse & Bar will be returning with their annual 'Dads Eat Free' Special*, running throughout the day in all three branches on Grafton Street, in Blanchardstown Shopping Centre and South Main Street Cork. Let Dad tuck into signature Captains favourites like spicy chicken wings, famous burgers and rockin' ribs, while the little ones keep busy with their colouring cards. *One main free for Dad when one kids meal and one adults main is purchased.
5. Stella Theatre
Stella Theatre will be treating dads to a free tub of popcorn when they bring their little ones along to the cinema for their Family Flick Matilda or Brunch Club film Big on Sunday 17 June. Sit back and relax in their luxury armchairs, sofas or beds - what a better way to start to your day.
6. Angelina's
Neighbourhood favourite Angelina's will be offering dads a free pint of Heineken with their dinner on Father's Day. Book ahead or pop in from 5pm and try and nab yourself a spot on their sunny terrace. A woodfired pizza paired with a cool pint, that's a guaranteed way to build up brownie points!
Not sure what to choose? Easy, go with a Press Up Gift Card. Let him choose from over 28 experiences, from breakfast to dinner, cocktails, live music, cinemas, shopping, sleeping and more. The Press Up Gift Cards are available to buy in any Press Up venue or at www.pressup.ie.