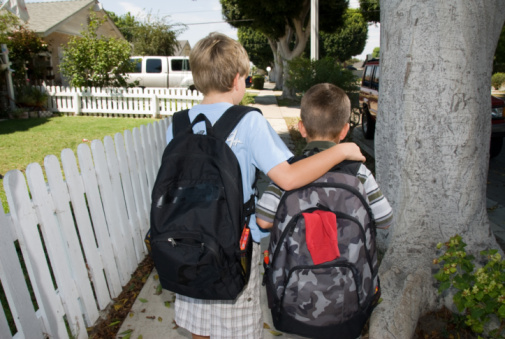 We love hearing about kids outsmarting their parents and pulling a sneaky prank.
While we should insert a disclaimer saying we don't condone this behaviour we couldn't help but laugh when we saw the simple trick these two boys played on their dad.
Six-year-old Harrison and five-year-old Reuben decided to play a little joke on their dad Geraint.
In honour of the Queen's birthday, the two boy decided to tell their dad their school were having a party to celebrate.
Not just a regular party but a costume party.
Being the dutiful dad, Geraint asked the boys what they wanted to dress up as and set about making it happen.
With a transformer and Woody from Toy Story in the back seat, Geraint drove his two giggling sons to school to realise it was all a hoax.
My boys told me it was fancy dress in school yesterday. Got them to school. WASNT FANCY DRESS. kids 1 daddy 0 pic.twitter.com/dK5h18yF2e

— Geraint Goodridge (@Goody_wales_1) July 9, 2016
Speaking with Wales Online, the dad-of-two said:
"We got to the school and I said to the teacher 'It is fancy dress, isn't it?' and she said no and then just burst out laughing.
"They got to stay in their outfits all day.
"They play pranks all the time because they're so close in age.
"They're always messing around."
After sharing the pictures of his two pranksters on Twitter, Geraint later wrote:
"Harrison said to me when he was going to bed 'when life throws you a lemon, throw it right back'"
SHARE this if it made you giggle.