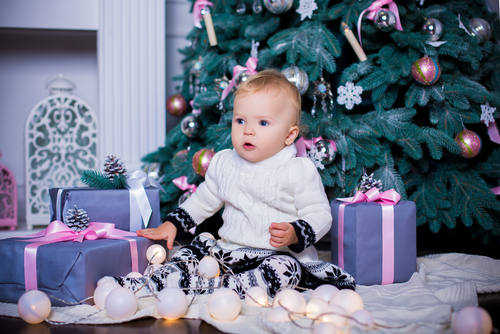 Baby's first Christmas is a very special time of year. As the whole family gathers to celebrate the festive season with you and your little one, they will unsurprisingly be inundated with lots and lots of presents. This means the gift you give them needs to be extra special.
So instead of spending a fortune buying lots of things, why not make them something yourself?
Footprint decoration
Pick up some mould mix from your local DIY store, shape the plaster into a circular shape and gently press their tiny foot into the mixture. Punch a hole through the top and carve the year along the bottom before you leave it to harden. When dry, thread some ribbon through so you hang it on your tree.
Baby's first Christmas baublé
For an easy decoration, pick up some foam balls in your local craft shop and write your little one's date of birth and First Christmas on it using glitter glue or permanent marker. Finish it off by sprinkling sparkles all over it. Secure some red ribbon to the top so you can hang it from the tree.
Handprint ornament
Pick up a glass baublé and put a little bit of paint onto your little one's hand. Press their hand onto the baublé to capture a moment in time. You can paint the date you did it on as well along with Merry Christmas.
Christmas blanket
Using scraps of material from items of clothing or other blankets that you hold dear, make a festive quilt for your baby out of it. Sew in the date and year you made it and every December you and your little one can snuggle under it on Christmas Eve.
A CD of your favourite Christmas songs
Why not get a blank CD and download your favourite Christmas songs onto it for your little one to enjoy each year? A great way to share a little piece of yourself with them.