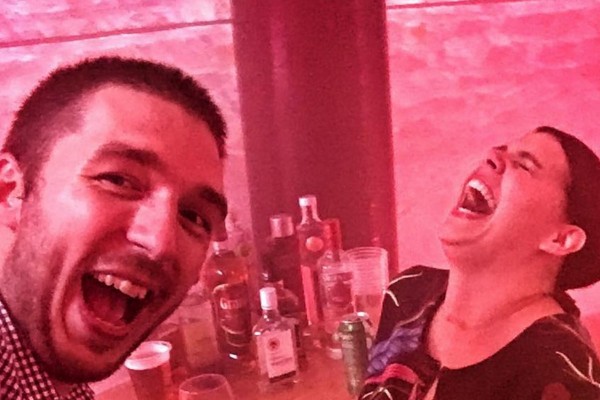 When you become a parent, especially during those early weeks and months, the concept of 'date night' goes completely out of the window.
Well, one genius British dad has come up with the ideal solution for couples who either can't leave the house, or who can't afford a babysitter.
Mark Hoyle, the hilarious man behind LadBaby, has given fellow fathers a run for their money by organising the funniest and coolest date night ever – by setting up an inflatable pub in his back-garden!
Mark, who documents his 'transition from Lad to Dad….one beer at a time' on his Facebook account, shared video evidence of his genius plan with his followers.
In the beginning, Mark's wife Roxanne is seen lamenting their lack of social life, and asks her hubby when they can go on a date night again.
Mark then instructs her to pamper herself the next day and return home at 8pm, where he will be waiting to take her on a date night.
The video then cuts to an excited Roxanne, who turns up at the front door looking gorgeous. She's initially disappointed when she enquires after their usual babysitter, Sarah, and is told that she's not there – but Mark has a surprise up his sleeve.
Stopping to check in on their baby son, who is asleep in his bedroom, Mark leads Roxanne out to the back-garden…
"Is that an inflatable pub?!" asks an astonished Roxanne, who bursts into a fit of giggles as she surveys the 'Air of the Dog' bar newly constructed in her garden.
"It's the best of both worlds," explains Mark. "Date night, and we don't have to pay for the babysitter."
The rest of the footage shows the parents having an absolute ball in the 'pub', enjoying a glass of wine beside their video monitor, and playing 'parent pong'.
It's the moment when the smoke machine kicks into gear, accompanied by '90s music and laser lights that proves too much for Roxanne. The woman cannot contain her laughter as she rocks out on the 'dancefloor'!
As you can imagine, Mark's genius idea has come in for major praise online. No doubt many parents will be stealing this idea for themselves!
Well, what do you think, mums? Would you love to hang out at Air of the Dog on date night? Let us know!