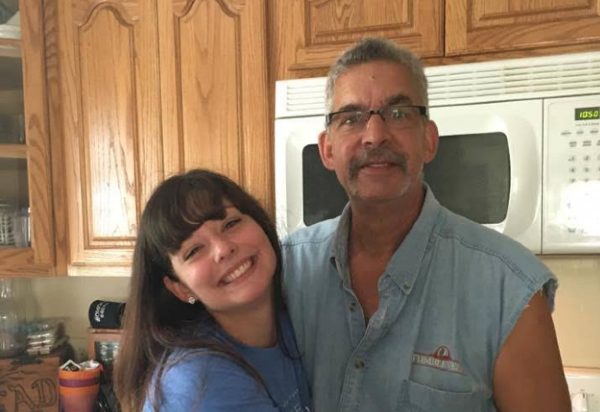 Recently Tiana Sheehan went to the shop to buy shaving cream and overheard a conversation between a mother and daughter.
The mum was in the aisle talking to her daughter about shaving her legs for the first time, as they shopped for her razor.
For most of us, this would just be another, overheard conversation between a mother and daughter - but it was a heartbreaking moment for Tiana.
"I felt that little punch in the gut that I normally feel when I see a mom and daughter doing mom and daughter things. I can't help it," she shared with the Love What Matters Facebook page. "You'd think after 14 years without mine, seeing someone with their mom wouldn't make me sad or jealous, but it just does."
Rather than breaking down and getting upset, Tiana instead was transported back to a time when she wanted to shave her legs for the first time, and the conversation she had with her father about that.
"This time, however, I couldn't help but giggle. I was transported back to a similar moment I shared with my Dad. I'll never forget the look on my dad's face when I told him I wanted to shave my legs," she said.
She explained her story: "It was the summer after mom died and some of the girls I went to summer camp with started teasing me about my hairy legs. I remember coming up to dad and being so embarrassed to ask him for help, but man, did he handle it like a champ!
For a moment he put his head down; and then he turned the TV off, took me into the bathroom, gave me a new blade on his razor, gave me his shaving cream, and taught me how to shave my legs."
Tiana went on to say that single dads do not get the credit they deserve, highlighting her father's amazing ability to fill the role of two parents in her life.
"There was never a time I thought Life or God had screwed me over. My dad handled everything: periods, shaving, broken hearts, catty girlfriends--you name it and my dad took it like a champ."
She closed the piece with a very special thank you to the man in her life, "for never, ever, ever being too much of a man to be my mom."
"Thank you for never being too embarrassed to do the girl stuff you had to do, thank you for never making it embarrassing for me to ask you for help. Growing up without a mom is obviously something no one ever wants, but growing up with you was the best. I love you, Dad!"
What a beautiful story, and what an amazing father!