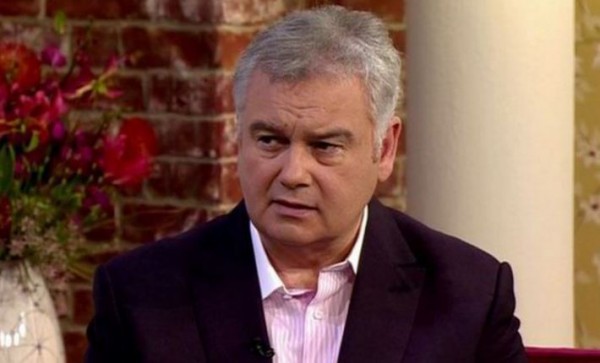 ITV's This Morning presenter Eamon Holmes has set the Twitter a buzz today following comments that child-free travel should be available.
Should airlines provide child-free flights? #ChildFreeTravel

— This Morning (@itvthismorning) August 17, 2016
Talking on the morning show, the 56-year-old said that airlines should provide the option of child-free flights, saying: "I paid for the ticket, why not?"
The father-of-four said that he just wants the choice and doesn't mean he wants kids to be sent off the airplane!
Eamonn's comments come after guest Martin Daubney said that we should be more tolerant because flying with kids is made more stressful by "disapproving grumpsters" who just make life miserable for parents.
"What makes life miserable is that I've paid for my holiday – I've got one week off all year. I just want to get on that plane and watching my movie, or sleep or whatever it happens to be. I just want the choice," explained Eamonn.
Not surprisingly, his comments made Twitter light up with some agreeing with the presenter while others were disgusted he would even suggest it.
imagine paying money to go on holiday and getting on a flight with a screaming child for 4 hours #childfreetravel

— faye (@fayerobson) August 17, 2016
I'd pay extra for child free flights #thismorning #childfreetravel

— GJ (@Missgemlea) August 17, 2016
After paying £750 to be kept awake for 5 hours on a night flight by a screaming child, I definitely wish this was a thing. #childfreetravel

— Nat (@natwil92) August 17, 2016
After listening to a child scream & cry for over 2 hours on my flight, I would love for airlines to bring in #childfreetravel #thismorning

— Emma Casson (@EmmaCasson_) August 17, 2016
@itvthismorning as X cabin crew I would argue a majority of children are better behaved than some adults I've come across! #ChildFreeTravel

— lacie (@Laciepie1) August 17, 2016
I was woken up at 8am by a crying child in the street. That doesn't mean we should build streets for families only. #ChildFreeTravel

— JonBomb (@JonathanSankey) August 17, 2016
A group of 3 grown young lads are noisier than 3 kids on a plane! Ban Children? Then ban alcohol too then..... #ChildFreeTravel

— Tony Fox (@DaSilvaFox13) August 17, 2016
@itvthismorning Id rather drunken moron-free flights

— Paul gibbons (@funkygibbons) August 17, 2016
What do you think? Should child-free flights be made an option?
SHARE your thoughts.