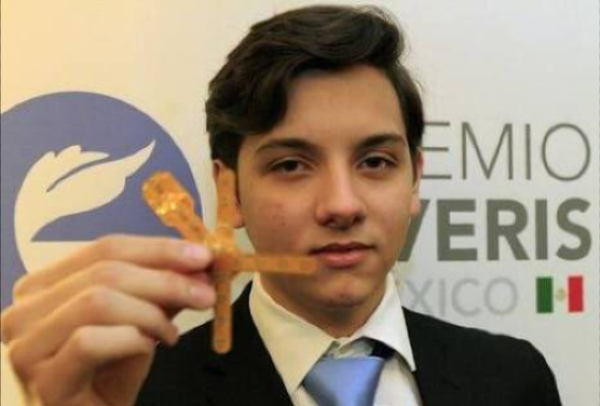 A young man in Mexico has invented an amazing bra that can detect the early symptoms of breast cancer, which could potentially save lives.
Julian Rios Cantu, an 18-year-old, recently won the first Global Student Entrepreneur Awards (GSEA) last month for his groundbreaking invention.
The youngster was even congratulated by Mexican President Enrique Pena Nieto on Twitter, who recognised the importance of this new bra.
Muchas felicidades a @JulianRiosCantu, por ganar el primer lugar de los Global Student Entrepreneur Awards en Alemania. #TalentoMexicano. pic.twitter.com/d03rehMsvD

— Enrique Peña Nieto (@EPN) May 3, 2017
But, how does the bra work?
Julian uploaded a video to his company website, explaining that women wear the bra for 60 to 90 minutes per week, and it will "monitor the health of their breasts, with bio-sensors taking into account their colour, texture and temperature. Information gathered is then sent to a special App, where it is analysed."
Julian explained that "as soon as there is a malformation in the breast or a tumour, there is an over-vascularisation; so the more flow of blood, the higher the temperature."
The bra, which is called EVA, will monitor any alterations to the breasts; and if persistent changes arise, recommend that you see a doctor.
There was a personal motivation to the invention of EVA for young Julian, as he almost lost his mother to breast cancer a few years back. Thankfully she survived, despite having lost her two breasts.
"The tumour went from having the dimensions of a grain of rice to that of a golf ball in less than six months. The diagnosis came too late, and my mother lost both of her breasts and almost her life. In her own words, she felt mutilated by the disease," he explained.
Julian's device is certainly ground-breaking and holds massive promise, but it is still very much in the development stage.
Anna Perman from Cancer Research UK spoke to the BBC about Julian's invention recently, saying: "We know that tumours often have an abnormal system of blood vessels, but we also know that increased blood flow isn't necessarily a reliable marker of cancer.
"It's great to see young people like Julian getting into science and having ideas that could help with cancer diagnosis. But an important part of science is rigorous testing, to make sure innovations like this actually benefit patients."
We will be keeping a very eager eye on this amazing invention!