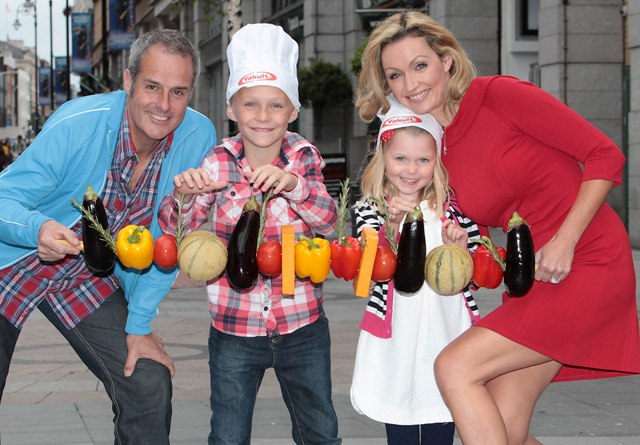 To mark national Gut Week, Yakult commissioned a Gut Week survey to see exactly how the nation plans to enjoy the summer, and the resulting effect that this might have on our digestive health. Gut Week aims to raise awareness of good gut health and improve their overall well-being.
Yakult found that although 38% of respondents felt they knew which foods to eliminate to improve their digestive health, most people will be turning a blind eye over the summer. Nearly three quarters of us don't give much thought to what we consume when celebrating and 69% confess to be more laid back over the summer holidays when it comes to their diet and keeping fit. However the survey also found that two thirds of us feel guilty about what we have consumed after a night of celebrations – meaning there will be a lot of guilty heads over the summer.
Celebrity chef Phil Vickery and spokesperson for Gut Week offers some suggestions on how to enjoy the summer of celebrations while still making healthy choices.
Avoid fry ups as a hangover cure as you will just be giving the body an unnecessary amount of saturated fat and salt, prolonging the ill effects. Porridge makes a great power breakfast as it contains Vitamin B to enhance your mood and helps to cleanse the liver. If you can't stomach porridge, try a banana. It's gentle on the stomach and packed with potassium, essential for good digestion. Potassium is lost by the body when alcohol is consumed, contributing to the symptoms of dehydration as part of the hangover. Replacing this lost mineral will speed up your recovery.
Barbequed food can be healthy and tasty; just try to look beyond the burger. Fish is a delicious alternative option to greasy sausages and processed meats and is filling and nutritious. Vegetable kebabs or corn on the cob are really easy to cook and eat with your hands at barbeque gatherings.
Anyone with a sensitive digestive system should avoid fatty meats and fried foods always, including pizza and French fries. Try to make party food from scratch so you know exactly what you are putting into your body. Instead of ordering in pizza, make your own so you can add fresh vegetables and control the portion sizes. Make your own ready meals like curries and stock up your freezer to avoid the temptation of takeaway, especially the day after a party when you won't feel like cooking.
Dr. Eva Orsmond, Ireland's leading expert in weight management and nutrition, adds her own tips for a healthy gut during summer's celebrations;
Keep moving! Exercise can help create a healthy digestive environment by allowing food to move through the large intestine much quicker.
If you are drinking alcohol, pace yourself and alternate drinks with water or try spritzers if you are out for a long night. Keeping your body hydrated helps the gut to flush out waste and prevent constipation. Generally you should aim for 8-10 glasses a day and keep an eye on your alcohol intake.
If you are attending an event, try not to eat on the run, and do make time for a healthy snack to keep you going. Eat slowly and chew your food well as this releases enzymes which kick-start digestion and hormones which will reduce the amount you want to eat.
Each bottle of Yakult contains at least 6.5 billion live cells of good bacteria which reaches the intestines alive and helps support digestions. Available nationwide, Yakult retails from 3.59 for a pack of seven bottles, one for every day of the week.
For practical advice and information on how to maintain gut health visit
www.gutweek.ie