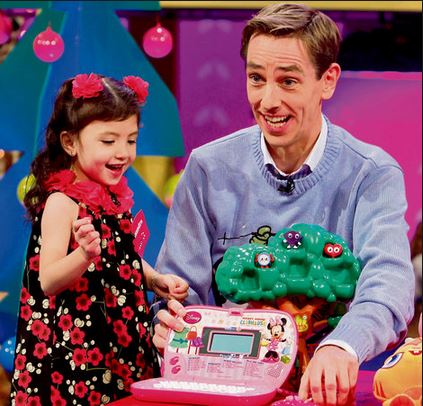 The Late Late Toy Show is
one tradition that has survived the decades, remaining a big event on Irish calendars.
The annual programme has brought families together for countless years - even teens will suffer through a few hours with their parents for the sake of this beloved institution.
By 9:35pm on Friday night, kids around the country will be curled up on the couch with their parents …and it's difficult to say who will be more excited.
Since it's a special occasion, we've compiled some tips to help you make the most of this family night.
Dress the part:
If you really want to get into the spirit of The Toy Show, get everybody to wear a Christmas jumper in solidarity with Ryan Tubridy. It's your first real excuse of the festive season to wear your Santa or Snowman knit, so go for it.
If you don't have Christmas jumpers, then you can't go wrong with pyjamas, At nine o'clock, get the kids changed into their cosiest PJs, socks, slippers and dressing gowns and settle down on the couch for the night.
The snacks:
Hot chocolates with marshmallows are a must for the Toy Show. You can give the kids a small cup of fizzy drink as a treat at the start of the show if they really want it, but remember these sugary drinks can harm their teeth.
Pop some popcorn and add your own flavouring if you're feeling adventurous and even though chocolate and crisps are tempting, consider making some healthier snacks like these
Frozen Banana Bites
.
The Toy Show Game:
There are certain elements that occur regularly on The Toy Show. Obviously the night is already very exciting, but to make it even more so, turn it into a game. Have a tin of Rose/Celebrations/etc on the table and every time one of the following happens, everyone gets to take a sweet:
Ryan Tubridy wears a Christmas jumper.
"And there's one for everyone in the audience!"
The toy refuses to work.
A school choir sings Christmas carols.
One of the kids forgets to keep moving during bike/car/tractor demonstration segment.
A child ignores Tubridy and continues to talk about their toy.
A child says the toy they were demonstrating is "crap".
Three sweets each if Ryan turns a water gun on the audience this year.
The Toy Show marks the beginning of the Christmas season, so be sure to enjoy it.