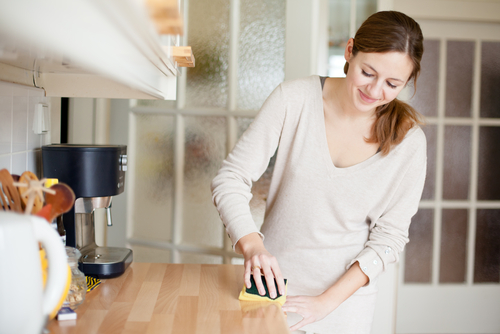 Here are five simple steps to tackle germ hotspots in your kitchen, helping you to keep your family healthy and happy...
Worktops
Bacteria can survive on surfaces for a long time and easily spread infection. Spray or wipe kitchen surfaces regularly with an anti-bacterial surface cleansing spray or wipe you can trust like Dettol that will kill 99.9% of bacteria.
Sponges and Cloths
Sponges and cloths are the perfect breeding grounds for bacteria. Change and disinfect cloths and sponges regularly and use with an anti-bacterial surface spray.
Sink
The kitchen sink can contain more germs than your bathroom. Regularly use an anti-bacterial surface cleaner on your kitchen sink and taps to blast away germs.
Floor
Floors harbour harmful bacteria that are easily spread by people walking from one room to another. Use an anti-bacterial floor wipe for spot cleaning and spills and a multi-floor cleaner to tackle heavy traffic areas in and around the kitchen, especially if little ones are crawling.
Knobs and handles
Don't forget to give a wipe to the opening mechanism on your fridge door, microwave and cooker buttons, cupboard and door handles.