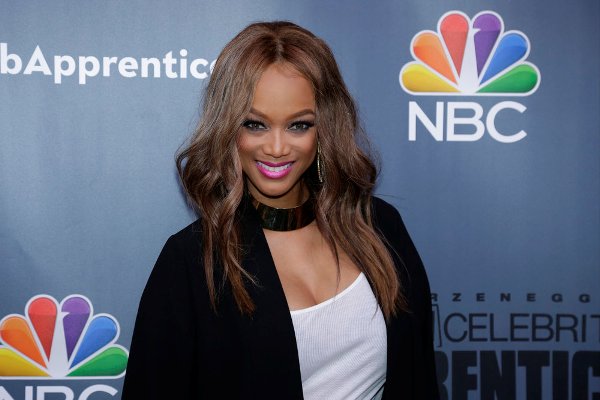 Tyra Banks and Erik Alsa have split up after five years together. The pair have a son together, who will turn two in the new year.
It is understood that there is no bad blood between Tyra and Erik with reports saying they have 'split amicably'.
A source spoke to Us Weekly about their relationship and confirmed that the breakup was a mutual decision. They said Tyra and Erik are on good terms and they have agreed to remain friends.
The former couple welcomed their son via surrogate in the January of 2016. It is understood that they will co-parent 21-month-old son York.
Tyra adores being a mum and will do anything to protect her little boy.
She admitted that when she turned 40 she knew she didn't have a lot of time left to become a mum, "It's difficult as you get older. It's not something that can just happen.'
She has honestly discussed her fertility issues and IVF treatment in the past. She spoke about her struggle with conceiving on her talk show FABLife, "Putting needles in your tummy every day and having to come to work and smile when you feel like you want to throw up and lay down is hard."
On January 28, 2016, Tyra took to her Instagram account to share that she was a mum. Tyra revealed the news to her five million followers.
She posted a photo of a newborn hat along with the caption which read, "The best present we worked and prayed so hard for is finally here. He's got my fingers and big eyes and his daddy Erik's mouth and chin. As we thank the angel of a woman that carried our miracle baby boy for us, we pray for everyone who struggles to reach this joyous milestone. York Banks Asla, welcome to the world."
Sources have revealed that Tyra and Erik will continue to work together. The photographer is set to shoot the opening credits for the next series of Americas Next Top Model.
Erik has previously worked for German Vogue and Allure, as well as Harper's Baazar. His work has appeared in other prestigious publications including The New York Times Magazine and Vanity Fair.
The 43-year-old businesswoman met photographer Erik on the set of Norway's Next Top Model in 2012. Tyra spoke fondly of her ex-beau in 2015, "We balance each other. He's my best friend."
Tyra is set to make her long-awaited return to America's Next Top Model for the hit shows 24th season.