Here at MummyPages we love restaurants where mummy and daddy can enjoy a delicious meal and also bring the kids. And while we love Asian cuisine, very few Asian restaurants are suitable for children. Few of them offer a children's menu and it's even harder to find such a restaurant that will actually provide your family with a healthy meal!
Well at Wagamamas things are a little different. As the most popular Asian style eatery in the country, the restaurant is a favourite with everyone who loves fresh, delicious food. The two Wagamama locations at Dublin and Cork have been treating Irish diners to positive eating experiences for several years and this trend is set to continue with a new restaurant just opened in Blanchardstown.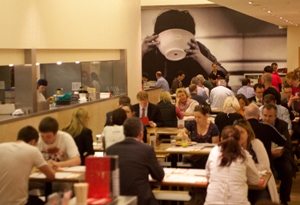 Wagamamas combine fresh and nutritious food with friendly service and value for money. Communal dining at long benches replaces the traditional table and chairs, generating an authentic Asian environment – and the kids just love the unusual environment!
Included on the children's menu are grilled chicken noodle (€6.25), grilled fish noodle (€6.45), mini chicken katsu (€5.95) and mini cha han (€5.45). These meals are tasty, filling and great value. Adults have a huge selection to choose from so if you want something familiar like a simple rice dish or if you want to be more adventurous, Wagamamas has something for you. Children can also get a noodle doodle fun fact sheet that they can colour in, so while mom and dad are finishing off their meal the kids will be kept entertained.
For more information on Wagamamas or to check out their menu visit their website
www.wagamama.ie
.