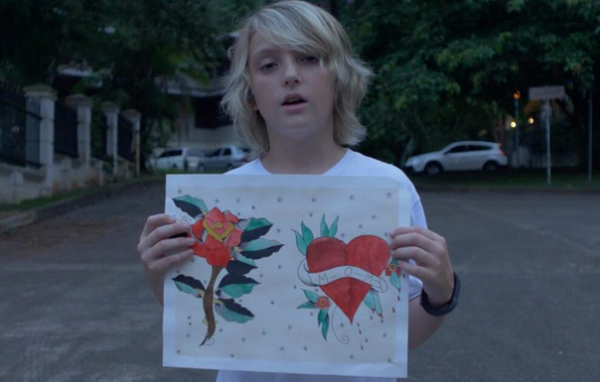 We all know that tattoos are (typically) reserved for people who over the age of 18 - but what about the artists doing the tattooing?
Ezrah Dormon is a 12-year-old boy who's under the Internet spotlight for his pretty impressive tattooing skills.
The youngster was introduced to the art form when he witnessed his mum getting a tatoo.
As shared by Teen Vogue, hi mum actually encouraged his interest: "I was just getting that tattoo and Ezrah was just sitting there watching us and talking. And he was like, 'Wow, I really wish I could try that. I would love to know how to do that,' and Ali was, like, 'Well, why don't you try it now?'"
It all went from there, and the first tattoo he ever did was on his (very trusting) dad.
Since then, he's worked on a couple dozen more as a helper, mostly for "traditional" tattoo designs, and has adopted the shark as his ink moniker.
You would think that working as a tattoo artist would have earned young Ezrah some serious swag-points, but that has actually not been the case.
"My friends, at the beginning, none of them believed me. Like when I did my mom, I told them that I did the tattoo and they were like, 'Ugh, please.' And some people at school think that it's awesome.
"What I want to do is, maybe I would, like, travel around the world with my tattoo gun, or when I go to college I'll have that in my suitcase that I can just pull out and give a tattoo to earn money."
We like this kid already!
Follow him on Instagram, and let us know what you think.
Is his hobby inappropriate, or kind of cool?