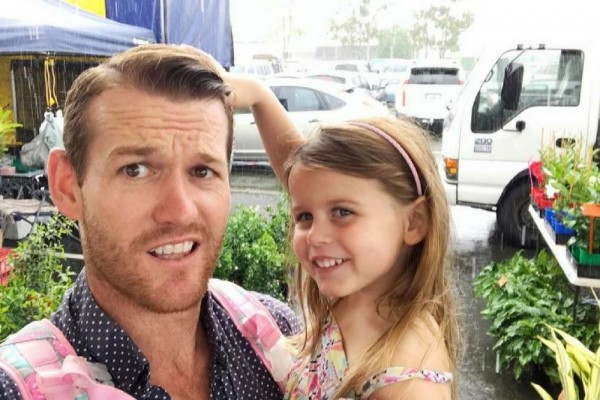 Gay dad Simon Leyshan, 34, has been diagnosed with post-natal depression after having a daughter through surrogacy.
Simon, from Brisbane, who is a stay-at-home dad to Olivia, three, made the interesting revelation on his Instagram account.
"I went to the doctor and she told me severe depression, more specifically post-natal depression. Yes, apparently dads get it too!" he wrote underneath a photo of himself and his beloved daughter.
"I was honestly a bit embarrassed at thinking this was just a woman's thing and that I could get over it in my own way.
"I had so much good in my life that I had no right to feel this way so just pushed it down and out of sight," Simon told Daily Mail Australia.
Simon came out as gay at 27 after meeting his partner Holt Meyers, 44.

He said he had suffered depression on and off throughout his life but after Olivia's second birthday, he "hit rock bottom." Even as he watched Olivia unwrap her presents, he said he felt depressed and was "in a really dark place."
As a new stay-at-home dad Simon said he struggled with all the regular parenting woes of "extreme tiredness, stress and feeling like you've lost yourself" on top of the loneliness that comes with being a "lone man at play group or dance class."
After his diagnosis, he went to a psychologist for help and later started his Instagram account to share his experiences of being a gay stay-at-home dad with others.
He was prescribed anti-depressants which he initially didn't want but accepted that he needed them. The young dad also credits "health and fitness" as being a crucial part of his recovery process.
Simon says he always wanted to be a dad and after being with Holt for a number of years they decided to find a surrogate to have a child.
"We were extremely fortunate to be in a position to start the very long process though an agency in America and before we knew it we were matched with Denise from California.
"We have no secrets with Olivia and even now at the age of three she knows in even more detail than we thought was possible about her story and how she came into this world", he explained.
Simon is much better these days and is no longer on medication. He says he's now living life to the full as a stay-at-home dad to Olivia.
"Olivia is going through the threenager stage but I don't take a single day for granted. I'm so incredibly proud of being her dad," he said.