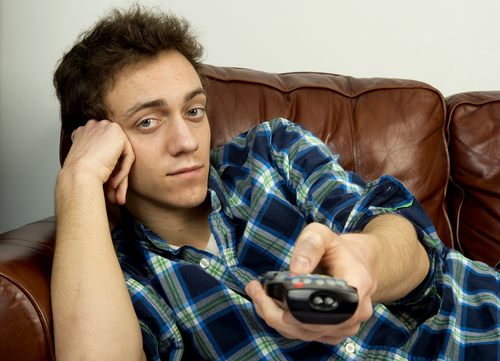 How much television is too much television? As a parent you would probably want to keep your teen away from the television screen altogether but knowing the amount of channels and programmes that exist nowadays, this is near to impossible. It is important though to limit your child's time with television, as it can not only affect their concentration but it can also be one of the leading causes of obesity among young adults.
Address your own television habits
Your teen's habits around television have probably developed as result of your own family dynamic's around the television screen. There is nothing wrong with watching the odd programme but if you are using television as a method of relaxation; it's no surprise that the first thing your teen probably wants to do when they've finished a day at school is to switch on the television. Make sure to follow your own advice when it comes to television and just like your teen, limit your own time with the box.
Talk to your teen about their television habits
Talk to your teen about the amount time they spend watching television and why it would be better to pursue some more healthy activities which could include meeting up with friends or joining after school clubs. Explain to your son or daughter that while it's great to get excited about TV programmes, it is still important that you're teen creates some occasional space from them and their favourite programme. Remember to tell your teen that you're not banning them from television but helping them to create a balance for other activities in their life as well.
Organise a television schedule
After you've discussed your teen's television habits, it's time to plan the amount of hours they will watch television throughout the week. Make sure to schedule television time around school work but most importantly that your teen has time to spend socialising with friends and family. If you're teen needs to watch their favourite programme, make sure that it is fitted in their schedule and there are no excuses now thanks to the latest recording technologies and channel players.
Most importantly remember by limiting your teen's time with television you are not only enabling them to have more time to pursue other activities but also teaching your teen that it is possible to fit all sorts of activities in their life including television.