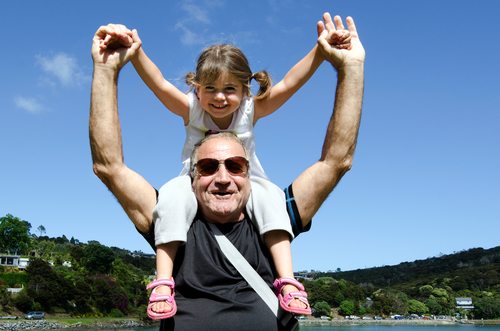 While our little one's dad can understandably be the primary focus of Father's Day, it's easy to forget that this day is also a great way to celebrate our childrens wonderful grandfathers. Here are some great tips on how to include your little one's grandfather this Father's Day:
Homemade gifts
While your little one is probably already busy making a Father's Day gift for their own dad, it can also be a good idea to encourage them to create one for their granddad too. Homemade gifts can feel a lot more special than store bought ones and are definitely something that their granddad will treasure in years to come.
A note
If they are old enough, get them to write a special note to their granddad. Whether it's on a card that you've purchased on their behalf or through their own homemade cards, a special message from your tot can a meal a whole lot to their granddad. Your tot can express how much their grandfather really means to them with a sweet note and is a wonderful way for your tot to show their feelings to their grandfather.
Visit
While the whole day might be devoted to dad, if it is possible, a visit to your children's grandfather is another great way to celebrate the day. Not only is it important that your tot spends time with their granddad but it can also really make their grandparent's day. It can be even more of a special Father's Day for your children's dad, if he gets to spend time with his own dad too.
Phone Call
While as much as we would like our little ones to see our grandfather, time and distance can often make this difficult. But a simple phone call with even a quick hello from your tots, can mean the world to your little one's granddad.
Store gifts
While handmade gifts are preferred there's nothing wrong with giving store bought gifts. Granddads also deserve their own witty card and personal treat just as much as dad does. Thankfully supermarkets and gift stores are stocking loads of special Father's Day treats just for Granddad.
Appreciation
While Father's Day is great opportunity for our little ones to show just how much their dad's mean to them, it can also be great time for our little ones to express just how important their granddads are to them. It is a time where your children can really show their appreciation for their Grandfathers but also a day for great memories that your children and grandfather will both treasure.