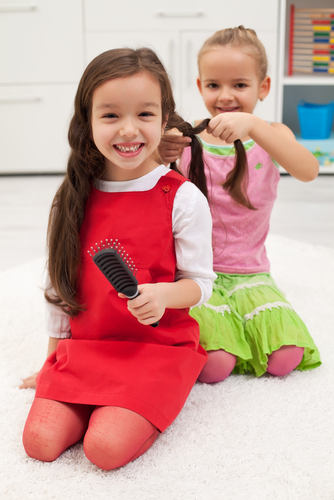 Sometimes a special occasion calls for more than just a simple ponytail or plait in your little girl's hair.
Here are six simple hairstyles that your daughter will be proud to wear and, more importantly, are easy enough for you to do.
Rapunzel ponytail
This is great for kids who have long hair. Simply put your little one's hair in a high pony, making sure to tuck any stray hairs away. Secure with a bobbin. Divide the ponytail in two and plait one section. Wrap the plaited section around the non plaited part of the ponytail. Pull it tight and secure with a bobbin.
Side braids
Grab a small amount of hair from either side of your child's head. Working on each side one at a time, plait the hair into a narrow braid. Do the same on the other side. Pull all of the hair back into a ponytail and secure the braids with bobby pins. Twist the ponytail into a bun.
Zig-zag split
Brush the hair straight and part in the middle. Starting at the back of the head, use a knitting needle or other pointed object to draw a zig-zag through the centre parting, pulling the hair until the parting is in the shape of a zig-zag. Tie the hair into plaits on each side of the head.
Half pigtails
These are seriously cute and work well on both long and short hair. Brush the hair straight and pull two sections of hair at the top of the head into pigtails. Secure with bobbins. It is great for keeping your little one's hair out of their eyes.
Messy bun
The messy bun is a great look, especially if you can't find the hairbrush. Simply run your fingers through your little girl's hair and pull it into a top bun. Secure with a bobbin and tie a bright coloured ribbon around it.
Four side mini plaits
Brush your little girl's hair and create a side parting. You will need to work on the section of the head that has the most hair. Pull the hair into four sections. Plait each sections half way down and secure with bobby pins.