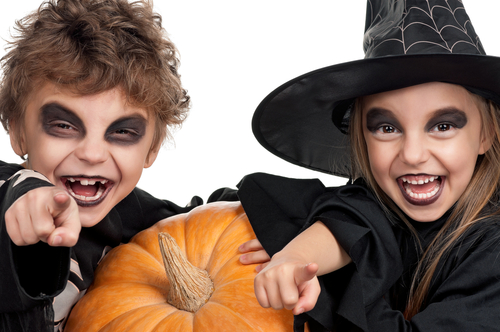 Halloween is just around the corner, and while many of us have our kids' costumes ready to go not everyone is that organised. So, if you still don't have an idea, never mind a outfit ready, these six last minute ones will come in handy:
Baby
Dress your little one in a plain white baby grow, pop a bonnet on their head and a soother in their mouth. This one is particularly easy if you have a baby in the house already as you won't need to buy anything.
Witch
You can never go wrong with the classic Halloween witch. For this costume, all you need is a black bag for a cape, a witch's hat, a broom and a cat teddy. If you don't have all these already, you can pick up some cheap ones in the local shop. Then all you have to do is dress your little one in black and pin the black bag on their back as a cape.
Grape
Depending on the size of your child, you will need to blow up about 30/40 purple balloons – you should be able to pick these up for cheap in your local two euro shop. Dress your little one in black and pin the balloons onto them. Finish off the look with a green bow on their head.
Chef
Dress your little one in a white shirt - you can use one of your old ones – and pop a chef hat on their head. To make the hat, simply roll a large sheet of white paper into a cylinder shape and secure with sellotape. Give them a large bowl, which they can use as their trick-or-treat bag, and a whisk to complete the look.
Cat
The black cat is a classic and easy look to achieve and is great if you have run out of time to make anything too complicated. Simply dress your little one in black leggings and a black long sleeved t-shirt. Make a tail by pinning black socks stuffed with paper to their leggings and make ears by securing black cardboard triangles to a black hair band. Draw whiskers and a black nose using eyeliner or face paint.
Spider web
Rather than going as an actual spider, this year, dress your little one up as a spider's web. Simply dress them all in black and use masking tape to draw the outline of the web. A few plastic spiders secured to the top or even in their hair will finish off the look pretty nicely.