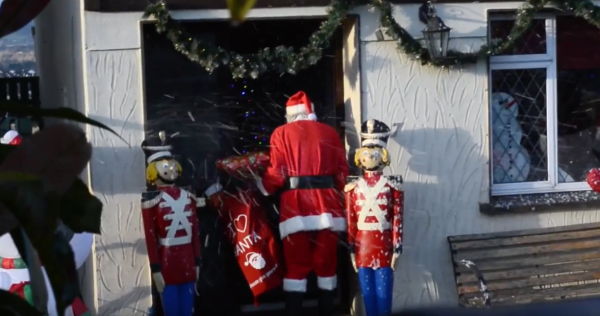 Visiting Santa's grotto is THE highlight of the year for most children. But for some, like William Murphy from Co Wicklow, a visit to Santa is not quite so straightforward.
Eight-year-old William from has ADHD and receptive language difficulties which means that Christmas time and crowded areas, such as queuing to see Santa, can be quite overwhelming. As a result, he can't visit Santa's grotto - something that has really upset him in the past.
His mum decided to make visiting Santa a relaxing experience so he could enjoy the magical moment just like other children. She enlisted some help from One4all gift company and the results are a magical experience in his own family home. The video will warm the cockles of even the hardest of hearts.
While William and his siblings were out, some magical elves set about creating a Winter Wonderland in his living room and no magical detail was spared.
The garden was filled with snow and decorated with beautiful Christmas ornaments, along with the family's living room being transformed into Santa's grotto, complete with a tree, presents and decorations to bring the festive fairy-tale to life.
Check it out, his little face says it all...
His mum Rebecca said he will never forget Christmas this year:
"Having this wish granted has made everything so much easier for William this Christmas and that really means the world to me. The kids all absolutely love Christmas and Santa, but the hustle and bustle make it a difficult time for my son. Our very own Santa's grotto was really fantastic. We are just so thankful."
Kudos to One4all for making little William so happy and reminding us that sometimes, dreams really can come true!
Merry Christmas!