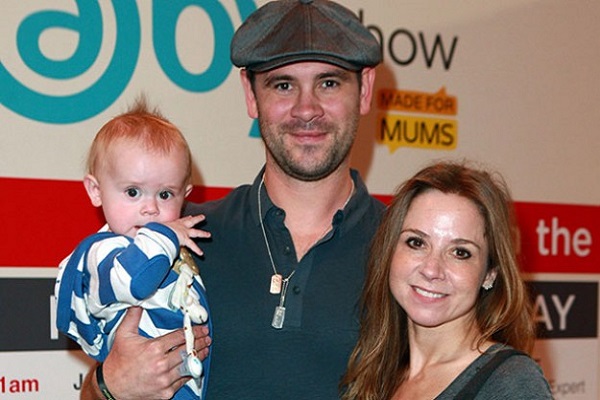 When we were kids we often found ourselves daydreaming about the future. We wondered where we would live, what job we would have and if we'd have kids of our own one day.
Soap star Ayden Callaghan dreamed of being a father when he was a young boy. The former Hollyoaks star said he always believed being a father would be part of his future.
He revealed that even as a young boy, he imagined himself being a dad. The actor gushed about having kids, he shared, "I always saw myself with two boys playing football in the garden."
Ayden's dream came true when he welcomed his first son into the world with his wife Sarah-Jane-Honeywell.
The proud parents were thrilled to welcome their first son Phoenix on August 25, 2015. The arrival of their first son was an overwhelming milestone for the couple, as Sarah suffered a miscarriage prior to her pregnancy with Phoenix.
Sarah-Jane-Honeywell opened up about losing their first baby on her blog Honey Mumster, she wrote, "When I had Phoenix after I'd had a miscarriage, I felt truly blessed. I was admittedly, a nightmare before every scan."
She admitted that they had at least 15 scans when she was expecting Phoenix, "[The scans] just reassured me that all was ok with my dream baby."
Sarah understood that her husband always wanted to have two sons, but they were hesitant about extending their family.
She shared, "I worried that I wasn't as fertile, and I'd also had an infection after my C-section, so in the back of my mind, I feared that this could have done some damage. I was slightly concerned but still hopeful."
Sarah and Ayden decided to try for another baby shortly after their wedding, but they faced numerous hurdles, "After cycle day 30 I took a pregnancy test and there it was BFP! A Big Fat Positive."
Former Blue Peter presenter Sarah gushed about the joyful news, "We are so thrilled and so lucky."
Ayden spoke to The Mirror about becoming a dad for the second time. He admitted that he was extremely excited, but shared that the pair have been extremely careful.
Sarah and Ayden had a Non-Invasive Prenatal Test to ensure that there were no problems with their baby.
He revealed, "Sarah had Phoenix aged 41, and although a lot of people are now having children later, she's a bit older, so we wanted to make sure there aren't any risks involved."
Sarah and Ayden's second child is due in February 2018. We're sure Phoenix will be the best big brother.