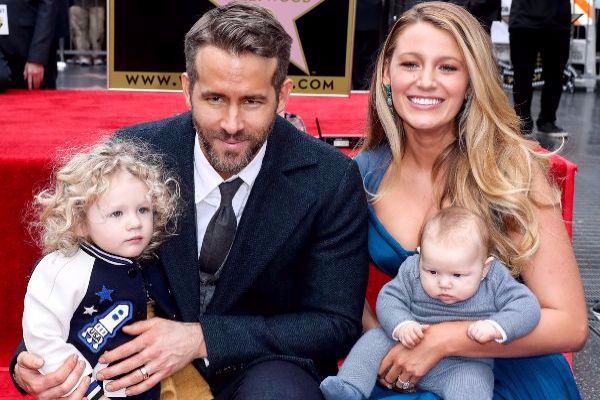 Our favourite Hollywood couple are busy preparing their family for Halloween and we cannot wait to see their costumes. Blake Lively and Ryan Reynolds are looking forward to celebrating the spooky holiday with 2-year-old James and 1-year-old Ines, but there is one family member that is extremely excited for Halloween this year.
In an interview with People, Blake revealed that her eldest daughter James has been busy brainstorming costume ideas for their entire family.
The Gossip Girl star shared, "My daughter suggested that our youngest should be Mike Wazowski."
Blake was thrilled with the idea that their clan would all dress up as characters from Monsters Inc., we would love to see Ryan dressed up as Sully, but unfortunately, James had a different idea.
The mum-of-two laughed as she explained that James wanted to be an extra special Disney character, "She suggested the baby be Mike and that she gets to be Cinderella."
The witty two-year-old would make a charming Disney princess, and we're sure baby Ines would look adorable, even as a one-eyed monster.
Cinderella isn't the only princess on her daughter's list of potential costumes. Blake revealed that James is also considering dressing up as Moana and Anna from Frozen.
Sadly, Ines drew the short straw when it comes to Disney inspired costumes. Her older sister has decided that she isn't allowed to be a princess, but the silly sidekick instead.
Blake laughed, "She gets to be Anna, and so you would think the baby gets to be Elsa. No, the baby gets to be the gecko from Tangled. Basically, the baby gets to be the goofy animal sidekick, while our daughter gets to be the princess."
The Age of Adeline star admitted that her daughter is a major Disney fan, with Moana being one of her favourites, but she has a soft spot for one classic family film that was around before her time.
"She weirdly gravitated toward E.T., which just shows good storytelling is good storytelling. I won't let her watch the whole thing because it's a little scary."
We love how James has inherited Blake and Ryan's love of film. We cannot wait to see what movie inspired costume she will wear this Halloween.
The famous family will be spending the haunting holiday in Ireland, where they are currently living due to Blake's filming commitments. Blake is currently in the midst of filming her latest film, A Simple Favour, in Dublin.