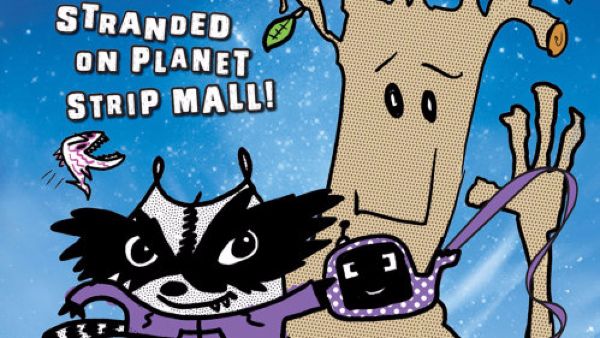 After battling deadly space piranhas in Sector 7 of the Cosmos, Rocket and Groot crash-land on a planet made up of strip malls, maniacal robots bent on customer service, and killer toilets - yes, killer toilets!
Told through the eyes of Rocket, the Adventures of Rocket and Groot will feature simple black-and-white drawing throughout, as Rocket uses a space stylus to express his adventures, visually, while Veronica, their space recording companion, lays out the adventure in text!
Granted, the drawings are done by a space Raccoon with a bad attitude, but what would happen if he gave Groot a shot to draw an adventure they had been on? what would we get? We'll find out in the final chapter!
This middle grade novel, perfect for 8-12 year olds, follows Rocket Raccoon and his walking, talking tree buddy Groot, as they crash-land on a mysterious planet made up of 99 cent stores, nail salons and low-end chain restaurants … basically it's a planet made entirely of shopping malls!
There are also robot employees bent on destruction, toilets that want to eat anyone that comes near them, flying teeth, killer yo-yos, and Veronica: a highly intelligent tape dispenser that has the skills of a ninja!
This is first in a series of original Rocket and Groot novels written and illustrated by Tom Angleberger, creator of the Origami Yoda series.
Look out for Marvel Rocket and Groot: Keep on Truckin'!