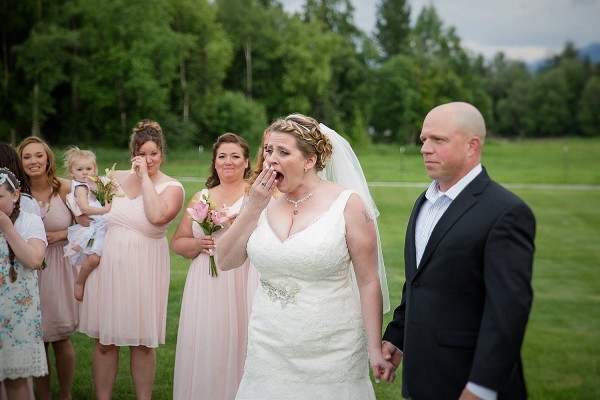 Your wedding day is supposed to be the most special of your life, and we're not sure it could have been any more meaningful for new bride Becky Turney.
While she was surrounded by loved ones on her big day, there was one person who was absent – Becky's son Triston, who passed away.
Becky's new husband, Kelly, managed to find a way to include Triston in their nuptials, however – in the form of one Jacob Kilby, who is alive thanks to Triston.
You see, when Triston died, Jacob received his heart in a transplant; he is alive because of Becky's beloved son.
Wedding photographers Love Adventured were there to capture special moments from the Turneys' big day, and shared all of the special details over on their Facebook page.
"Her son couldn't be here for the wedding day, but Becky's groom Kelly Turney surprised her by flying Jacob up to Alaska, to stand in as a groomsman, carrying Triston's heart," read the post that accompanied incredible photos from the day.
"Kelly stopped the ceremony to introduce Jacob to Becky for the first time."
As you can see in the photos, Becky was reduced to tears after being introduced to Jacob. The moment when she realised who the young man is, is nothing short of incredible.
After embracing Jacob in a hug, Becky was handed a stethoscope with which to hear her son Triston's heart beating. The image is absolutely breath-taking.
As you can imagine, there wasn't a dry eye in the house – and even the photographer was overwhelmed by the story.
"Everyone was so moved by this, and I had to share this amazing story," she wrote.
"I had the pleasure of hearing Jacob share his gratitude and plans for a healthy life to Triston's sister before the ceremony.
"I am so blown away by his story and his amazing outlook on life. You couldn't ask for a better recipient to receive such a gift."
Needless to say, the photos have gone viral across social media, touching people all over the world.
While this was always going to be a day to remember for Becky, we reckon she never imagined just how special it would be.