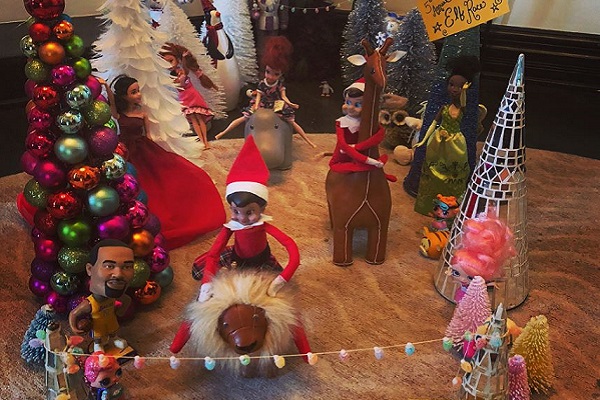 Moving your child's Elf on the Shelf has become part of every parents evening routine. However, the last thing you want to do after a long day in work is come up with a new place to put the dreaded elf.
Luckily, one actress is here to inspire parents across the world with the most elaborate Elf on the Shelf photos.
We must stand up and applaud Busy Phillips who has gone above and beyond with her Elf on the Shelf updates.
Every morning her daughter's can look forward to finding their elves in the wackiest places.
The White Chicks star has received huge support from parents for her extravagant photos. The mum-of-two has shared photos of the elves playing tic-tac-toe, taking part in the annual elf races and soaring through the sky in a hot air balloon.
Our favourite post so far is of the elves spreading their wings and enjoying a day in the Big Apple. Busy wrote, "The elves had a real New York sightseeing day! They went to the Empire State Building, rode the subway and saw the hit Broadway show Dear ELFin Hansen. Overall, they had a great time! #elfontheshelf."
Fellow parents couldn't help but shower the Freaks and Geeks star with praise for her creative and witty posts.
One wrote, "This is so awesome, love the imagination and detail."
Another mum joked, "You are making every other mom look like a real sloth."
Busy's Elf on the Shelf skills are seriously impressive, we're certainly going to have to up our game!