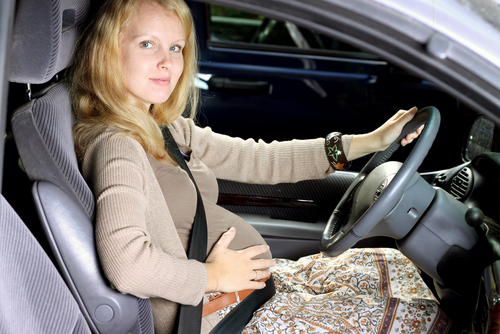 Just because you are pregnant doesn't mean you have to stop driving; however, you will need to make a few adjustments to ensure that both you and baby are safe and comfortable at all times whether you are driving or not.
Here are 8 tips on how to stay safe in the car:
How not to wear a seatbelt
When it comes to wearing a seatbelt, how it is positioned on you will depend on how safe it is. Don't have the seatbelt across your bump or above it because if you are in a crash it could cause the placenta to come away.
How to position belt
When positioning your belt, locate it low down under your bump so that it is sitting on your hips. The crossover strap should be on your breasts and not under your arm or cutting against your neck.
Secure
This goes without saying that you double check your seatbelt is properly secured within its clasp.
Take off bulky clothes
Remove any bulky clothes that will get in the way of the seatbelt. Your body temperature will be slighter higher now that you are expecting so avoid wearing anything that will just make you feel too warm and uncomfortable.
Don't drive for too long
Avoid driving for long periods of time as you will become tired a lot easier and you may lose focus.
Airbags
If your car has airbags, ensure your seat is as far back from them as possible and that your steering wheel is tilted up slightly. This will mean that if you are in a crash the airbag won't just hit your bump but should go for your chest. Adjust the dashboard if needs be but never turn off your airbags.
Lean the seat back
Try to lean back in the seat as far as is comfortable to avoid you being too far forward if you are in an accident.
When to stop driving
Try to avoid driving when your bump doesn't fit comfortably between you and the steering wheel. If you are in a crash your bump may become badly crushed.