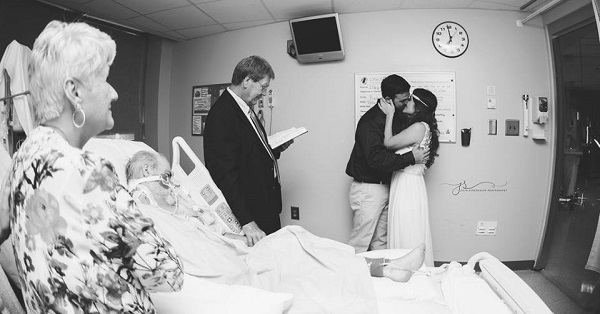 Hearts all over the world have been touched this week, after the story of Candice Hammonds' wedding to Thomas Burkett went viral.
Photos of the couple's last-minute wedding, in the hospital where Candice's father Steve was being treated in his final days, have proven to be truly heart-wrenching.
The US couple's wedding was originally set to take place next month, but when Steve's condition deteriorated, they decided to bring their nuptials forward so that he could attend.
With the staff of Upson Regional Medical Centre, Georgia, rallying around to help Candice and Thomas, their perfect ceremony was arranged in just 24 hours.
The couple exchanged vows in a room in the hospital last Wednesday. When the couple's pastor asked who was giving Candice away, Steve raised his hand from his bed.
Capturing beautiful photos from the day was photographer Julie Schandolph, who wrote on Facebook: "Every girl dreams of her daddy walking her down the aisle and giving her hand away. Given the circumstances, Candice's daddy was still able to do just that!"
"I don't think I have ever experienced so much love and emotion in one room. The way that this family came together in such short time for this bedside wedding amazed me!" she added.
Sadly, Steve passed away just days later, on Saturday.
It's not hard to see why these images and this story have struck a chord with people everywhere.
SHARE to bring a tear to a friend's eye today.