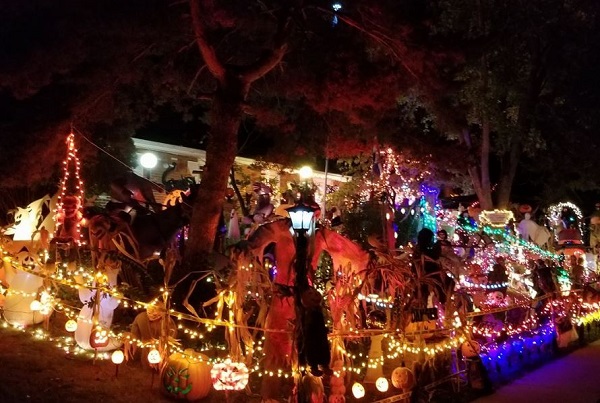 Halloween is just around the corner. It's time to start carving your pumpkins, planning your costumes and stocking up on sweets for Trick or Treaters.
As we near the end of the month, homeowners have started to deck out their houses with spooky decorations. You'll find cobwebs draped over the hall door, skeleton figures will be placed in the front garden and carefully carved pumpkins will be proudly displayed in the windowS.
Some people will stick to simple decorations, but others will go all out as Halloween rolls around. One dad has spent an extortionate amount of money on his Halloween display.
Chris Donaubauer has spent over $100,000 on transforming his house into the ultimate Halloween house.
The Halloween display has been the talk of the town for the past 16 years. His home in St. Louis attracts visitors from across the country.
The inspiration behind this Halloween house is nearly as good as the house itself. The reason the dad decorates his house is because he loves to see people smile.
People's happiness is what motivates him every October. He said the visitors make the experience a lot more special.
Chris spoke to CBS about the attention the house gets, "I had a 50-60-year-old guy here, he was like a kid in a candy store."
He expressed his delight, "I like to see people smile. That's why I do it."
The dad explained that he could charge people for visiting the house, but he said it's not about the money, "It is all about the stories and the smiles."
He said the joy it brings to adults makes it all worthwhile, "I get to watch adults act like kids in a candy store."
Decorating the house fills him with glee, "The kids love it too, just like I do and my family."
Chris shared that he could do with some extra money, but he doesn't want to accept any donations, "Donations would be nice, and I could use it. But I have never done it for that and will never do it for that."
The dad proudly welcomes visitors to the spooky site every day of the week. He even lets his son Brandon get involved in the ghoulish project.
Brandon brings guests on tours around the haunted house. The 16-year-old shared that his favourite part of the house is a bloody werewolf that growls at passers-by.
It is understood that at least 750 cars will pull up outside their home to catch a glimpse of the house in all its spooky glory.
We're tempted to hop on a plane to check out the creepy Halloween house ourselves.