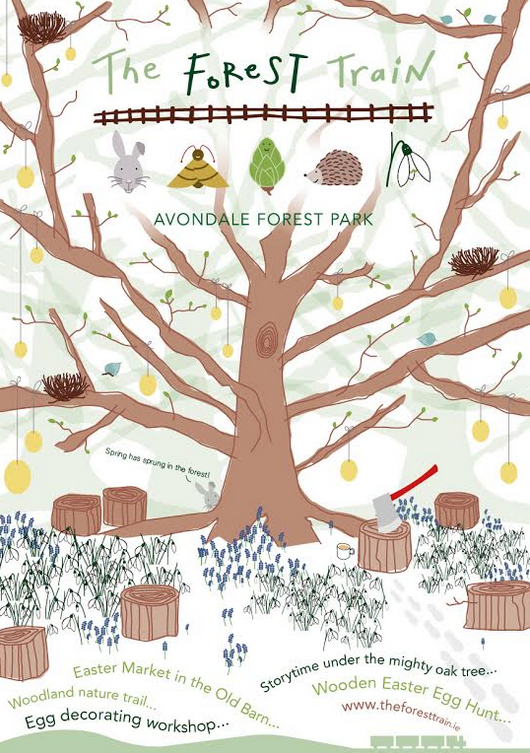 This Easter, The Forest Train will take passengers on a new adventure into Avondale Forest Park.
The train will travel deep through the magical forest, where passengers will disembark to begin a fun and fact-finding nature trail.
Each child will be given a pencil and a nature trail booklet filled with interesting things to look out for and some fun facts about the forest in spring time.
Along the way, they will meet Ned, the resident Woodsman chopping logs outside his house. Ned is a wonderful storyteller and under the branches of the mighty oak tree he will entertain everyone with his magical story about the surrounding forest.
Before getting back on the train, there will be time for a wooden Easter egg hunt in the grass of the meadow.
Armed with some new information and a wooden egg to decorate, it's back on the train to the Old Barn where there will be some serious egg decorating to do.
Adults can grab a coffee while the kids get creative or they can get stuck in if they want.
There will also be a spring time market in The Old Barn with stalls selling coffee, cakes, crêpes, crafts, balloons, jewellery, popcorn, ice cream, an Electric Zoo and much more.
Children should wear old clothes, appropriate footwear and dress accordingly for the weather. The event is both indoor and outdoor.
Location:
Avondale House and Forest Park
Rathdrum
Co. Wicklow
Date:
Friday, 3rd April – Monday, 6th April
Time:
11am – 4.30pm each day

Cost:
€12 per child
€6 per adult
Babies (under the age of one) are free