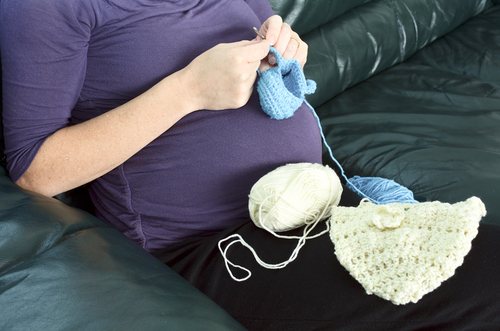 Waiting for your baby's arrival, especially when there are just a few weeks to go can be frustrating. Not only due to the fact that every single part of your body hurts, but after nine months you are really ready to see your baby and get this motherhood role started.
However, instead of secretly urging your baby out of your womb, occupy your time and save yourself a few bob by making them something special these easy and fun projects.
Bunting
Make use of scraps of material or old clothes and put together bunting that you can hang along the wall in your baby's nursery. It is a lot easier than you might think – all you need to do is cut your scraps of material into triangular shapes all of the same size and sew onto a thick length of sting.
Name art
If you did embroidery when you were in school, this will be a really easy project for you do to. Using an embroidery hoop, sew your baby's name, if you have one, onto a square of material. Place the finished project into frame and hang over your little one's crib.
Patchwork quilt
This one requires a little more work but will be really worthwhile. If you like, why not turn it into an ongoing project that continues after baby's birth right up until the end of their teen years. For a real nostalgic piece, use scraps of material from old clothes and other blankets that hold special memories.
Bandana bib
You don't need to spend a fortune buying a load of bibs for your baby - you can make a few yourself. Using Terry cloth – it is great for absorption – simply cut two large triangles out of one piece of material. Cut a groove between two points where it will sit around your baby's neck. You can sew clasps on the material to close or simply tie two ends together like a bandana. Make sure you sew the edges of the material together as it can fray easily.