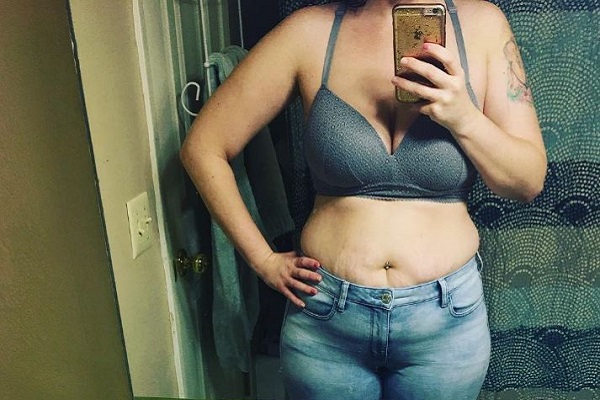 Our bodies go through a phenomenal amount of change during pregnancy and birth, and many new mothers struggle to get to grips with the new person they see each time they stand in front of the mirror. For Jessica McCoy, this process is particularly difficult.
Jessica was pregnant with her second child, a daughter named Evie, when she discovered that the tot was seriously ill. Little Evie was diagnosed with spina bifida and DiGeorge syndrome while still inside the womb.
Jessica, who is also mum to a little boy named Brennan, was told that her daughter would need to undergo two surgeries immediately after birth, as well as a potential third. While there was a strong likelihood that Evie wouldn't make it through the surgeries, Jessica explained that she would have had a very poor quality of life.
And so, Jessica and her husband made the incredibly painful decision to 'stop Evie's heart'. She was naturally devastated, feeling as though her world was 'falling apart within a two-minute conversation'.
As Jessica comes to terms with her loss, however, she is presented with a constant and heartbreaking reminder of the daughter she lost: her own body.
"I am 20 lbs heavier and two sizes bigger than I was pre-pregnancy. And I am not OK with my body. I think I would've been OK if Evie was here, although she would've likely still been cooking inside me. The fact that I am bigger than I normally am and don't have my baby makes it harder," wrote Jessica, beside a photo of her reflection.
Of course, Jessica has dealt with these body image issues before, but things were so much different with her first pregnancy.
"I was uncomfortable in my larger body, but it grew my beautiful little man, and how could I be upset with it when I looked at him?" she wrote.
"Every day, I'm reminded that I grew my baby for six months, and she died. It really is a constant reminder to me. I don't have love for my body. I am angry at it right now. I can't be body positive right now. It's too hard, and it hurts too much. I'm working on losing this weight so it isn't one more thing that is a constant reminder."
Naturally, Jessica's post has touched hearts around the world, and she has been inundated with messages of love and support from fellow mums.
"So much love. For you and Evie," wrote one follower, while another piped up, "If you ever want to join me at my gym, message me. I'd love to work out with you."