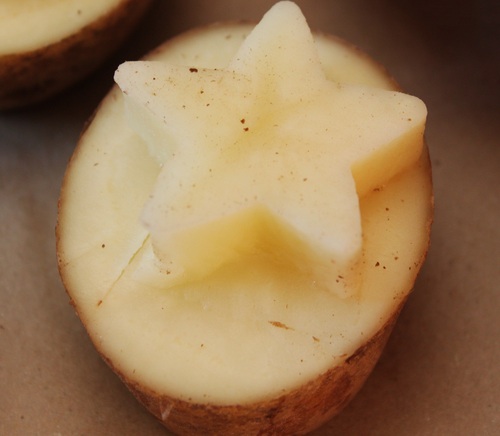 What you need
Cookie Cutter (Halloween themed)
Potatoes
Sharp paring knife
Paper
Paint
Saucer
How to make the potato stamp
Wash the potatoes to remove any dirt and cut them in half. Use average sized potatoes to get 2 stamps from each.
Press one potato half down on to the cutting side of the cookie cutter. If you have the kids helping in this craft, you will need to look after this part, as it can be tricky for little hands.
Using the paring knife, you need to cut around the outside of the cookie cutter shape. The depth of the cookie cutter will define how deep you cut and you need to make sure you do not cut below the cookie shape.
When you have cut off all the excess potato gently remove the cookie cutter from the potato and you are left with your potato stamp with the shape sticking out from the rest of the potato.
Pour the paint onto a shallow saucer and let the kids dip the potato stamp into the paint and start to decorate the paper or to make special Halloween cards.
If you like this, you'll love
these