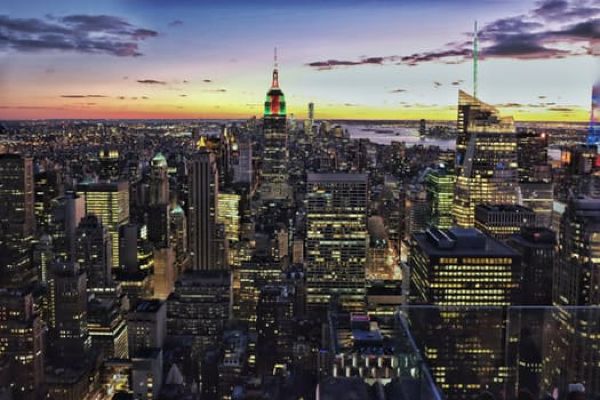 Family holidays can be tricky, especially if you're jetting off to a busy bustling city for a few days with the kids.
That got us thinking about New York City, and how surprising kid-friendly it can be, if you know where to go and what to do.
1. Children's Museum of Manhattan
If you're travelling with young children, visit this amazing land designed for kids aged six and under.
Age-specific exhibits include playworks for the youngest visitors, and Adventures with Dora and Diego for ages two to six. Changing exhibits also show how children live in other lands, so it will be an educational and fun experience.
2. Dylan's Candy Bar
Think of a dream Candyland come to life, with a giant lollipop tree in the centre, candy patterns on the walls and embedded in the stairs.
Dylan's Candy Bar claims to house over 7,000 different confections, making it one of the largest selections of candies anywhere and enough sweet stuff to satisfy the wildest cravings.
Fudge-makers are at work downstairs, and upstairs the gigantic sundaes come with three scoops and three toppings. Say no more.
3. Bronx Zoo
Allow a full day to explore the largest city zoo in America, that is home to some 4000 animals, many of whom are found in open natural settings.
Among many highlights are Tiger Mountain and the Congo Gorilla Forest where glass walls put you close-up to these wondrous animals. Special times to arrive are feeding times for lions at 11am and 3pm and for penguins at 3:30pm.
4. New York Transit Museum
This exciting museum is housed in a 1936 decommissioned subway station, and tells the amazing story of New York's subways, beginning with how tunnels were dug underground from 1904 to 1927 for the opening of the system. Exhibits continue to follow the construction of the enormous 842 miles of track to the present.
Visitors can walk through actual vintage subway cars and see the many kinds of tokens used to enter the subway before the advent of the Metrocard.
5. The Intrepid Museum
The Intrepid Sea, Air & Space Museum is an American military and maritime history museum with a collection of museum ships in Manhattan. It is located at Pier 86 at 46th Street in the Hell's Kitchen neighbourhood on the West Side.
We recommend you allow several hours for this museum, as there's a lot to see—exploring the historic (and enormous) aircraft carriers, nearly 30 vintage planes on the flight deck, a guided missile submarine, and the space shuttle Enterprise.
6. Chelsea Piers
Chelsea Piers is located on the Hudson River, and is a 27-acre riverfront sports complex that can be a welcomed break from walking the streets of NYC. Activities include a bowling alley, an indoor ice skating rink during winter and a summer skate park.
The Field House, which serves many leagues and classes, offers a fantastic selection of Drop-In programs for its facilities between scheduled sessions. These include batting cages, soccer fields, basketball courts, a gymnastics area, and a rock wall. Children age 4 and under also have access to their own indoor play area.
What a fabulous way to spend a day in New York City!
7. American Museum of Natural History
This is a place that adults and children both love, and for so many fantastic reasons.
The dinosaurs are, of course, biggest draw for little ones, but don't forget the giant blue whale, the African elephants, the animal dioramas, or the fabulous gems and minerals with treasures like the 56-carat Star of India sapphire.
Be sure to check out the Discovery Room, where kids can hunt for animals in a replica African baobab tree or examine specimens such as minerals or skulls.
8. Brooklyn Chocolate Tour
If you and your little ones love chocolate, then this is the tour for you. During the four-hour tour of the New York Borough, you'll sample some of the most delicious traditional and artisanal chocolates that are made and/or originated in Brooklyn.
This tour is a great way to explore Brooklyn with kids, as there are lots of fun distractions at some of the best chocolate shops in the city. The tour starts from Union Square in Manhattan, and lasts four hours.