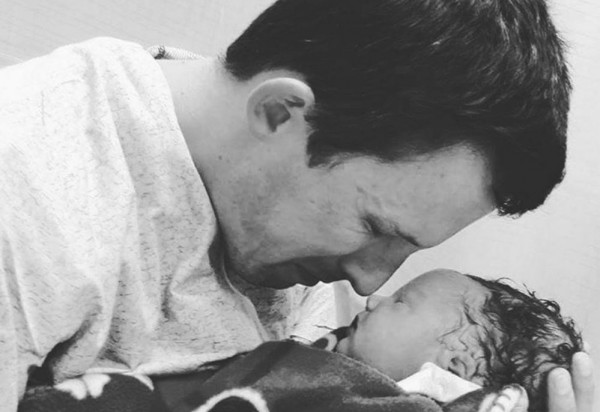 A heart-wrenching photo of a new father saying an anguished goodbye to his newborn son has touched hearts around the world today.
Marty Tonkin and his wife, Simone, welcomed son Nixon almost three years ago. However, due to complications during birth, his skull was fractured and he was left with brain injuries. He suffered a haemorrhage and couldn't breathe without assistance; tragically, he died shortly after that last photo with Marty was taken.
An inquest held this week heard how little Nixon's injuries were caused when a midwife attempted to free him during the C-section, with the pressure of her fingers on his little head apparently causing the damage.
A friend of the Australian parents, who went on to welcome another son named Knox, has set up a fundraising page (link here) in a bid to raise money for the couple in the wake of their loss and the recent heartbreak of the inquest.
Referring to Simone, her friend – also named Simone – explained how she has lived through 'three years of PTSD, anxiety and depression', all of which has made it 'almost impossible for her to function'.
Simone has made it through, however, for the sake of her family and her little one, and is now 'working part-time, raising a toddler and fighting the barrage of anxiety, flashbacks and nightmares'.
As for dad Marty, the friend went on to describe him as 'the strongest man she has met'.
Posting the incredible photo of his goodbye with Nixon to Instagram, Simone wrote: "He carried Nixon's casket in at his service, and how he made his legs move with the soul-breaking task ahead is seriously a moment I personally will never forget.
"He works endlessly at his family business, supports Sim, is a wonderful dad, and to his friend [is] a great mate."
Simone has launched the fundraising campaign in a bid to raise $25,000 so that the family will get a helping hand with 'legal fees, everyday bills, therapy or grief counselling [or] a mini break'.
Our hearts are with this family, and we're wishing them all the best as they move forward.