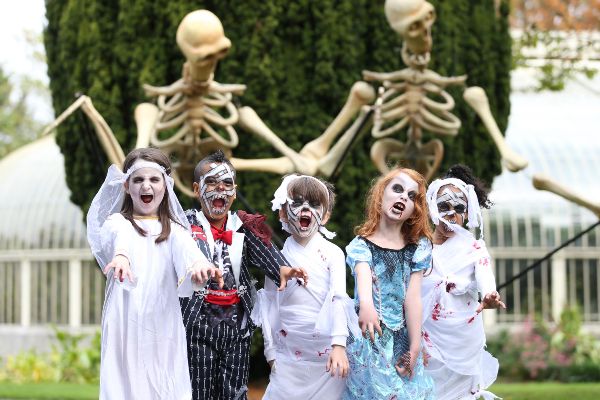 It's almost that time...
Children and families are invited to channel their inner zombie, ghost or ghoul this October Bank Holiday weekend at Bram Stoker Festival's (October 26th - 29th) series of family-friendly fangtastic events (sorry) across the city. Highlights include Stokerland, a pop-up Victorian fun park, Dracula's Disco with Dracula's own DJ, spinning the decks and scratching vinyl and the return of the Macnas parade.
Below are more ghoulish details that you and the kids will love, from creepy pop-up parks to deadly dancing and spooky library tours:
Roll up, Roll up! Stokerland, a pop-up Victorian fun park for children and the eternally young, will open its gothic gates on Saturday 27th and Sunday 28th of October in one of Dublin's most beautiful green spaces, St. Patrick's Park. This ghoulish gathering will present street theatre, a performance tent, free face-painting, macabre thrills and ghoulish games for everyone to enjoy, complete with a food village, story telling, macabre theatre for children, fairground rides and more! This family-friendly fun-day is the perfect way to entertain children 12 and under this Halloween Bank Holiday weekend. Fancy dress isn't a must but is encouraged!
Dracula's Disco returns to Meeting House Square with DJ Will Softly on The Ark's outdoor stage, complete with confetti cannons to inspire some seriously deadly dancing! This fun-packed and energetic DJ set will be perfect for young ghosties, ghouls and music-loving little monsters. Free entry on a first come basis.
World-renowned pioneers of imagination and invention, Macnas will transform the city streets as dusk falls with their new spectacle 'Out of the Wild Sky'; a haunting and hair-raising procession of otherworldly creatures.
Visit Brown Bag Films in Smithfield for a fang-tastic vampire-themed Animation Workshop with Director on Disney's Vampirina. Emmy Award-winning artist Mårten Jönmark, will share the secrets of creating vampire characters inspired by Vampirina. Kids will work together on a giant vampire doodle as well as creating their own individual characters to take home.
PaINTCLUB Family x Bram Stoker daytime painting workshops for young and old in the light-filled vaults of Dublin's EPIC The Irish Emigration Museum. At these special family events, you and your young Picassos can come together and create a 'Dracula' inspired masterpiece. With all materials provided and step by step instruction, this is a fun family event where older children, teens and adults can get creative together and take home a masterpiece.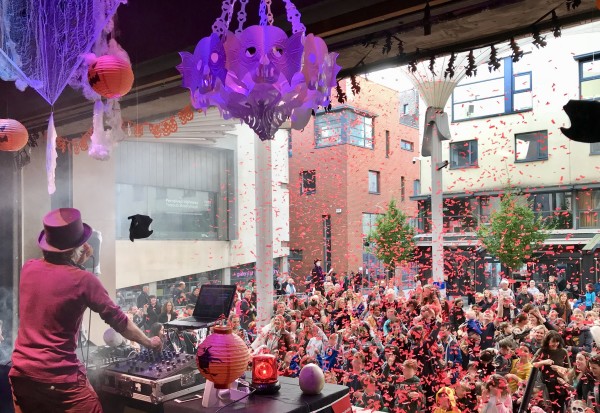 For more than three hundred years, Ireland's oldest public library has stood in Saint Patrick's Close on the edge of the Cathedral graveyard. Marsh's Library aka The Haunted Library invites guests to wander the darkened galleries where books of witchcraft and heresy are to be found. Once inside visitors will be regaled with bizarre tales from our past by a series of strange characters both strange and terrifying.
Event details:
● Stokerland: Sat 27th & Sun 28th / 11am – 4.30pm / St. Patricks Park, Dublin 8 / Entry free.
● Dracula's Disco: Mon 29th / 2pm – 4pm / Meeting House Square, Temple Bar, Dublin 2 / Entry free.
● The Haunted Library: Sat 27th / 10am – 5pm / Marsh's Library, St Patrick's Close, Dublin 8 / Entry free.
● PaINTCLUB Family x Bram Stoker: Sat 27th / 10:30 – 2pm and 12:30pm - 4pm / EPIC,The Irish Emigration Museum, CHQ, Custom House Quay, Dublin 1 / Tickets: Adult €25 pp, Children Aged 8-18, €18 pp.
● Animation Workshop with Director on Disney's Vampirina: Sun 28th / 1pm– 2.30pm and 2pm- 3.30pm/ Brown Bag Films, Unit 20, Block C, Smithfield, Dublin 7/ Tickets: €6 per child (including €1 ticket booking fee). No charge for accompanying adult.
● Macnas 'Out of the Wild Sky': Mon 29h / 18:30 Assemble on Parade Route 19:00 Parade Starts / Dublin 1 (full parade route available from 22 October) /Free.