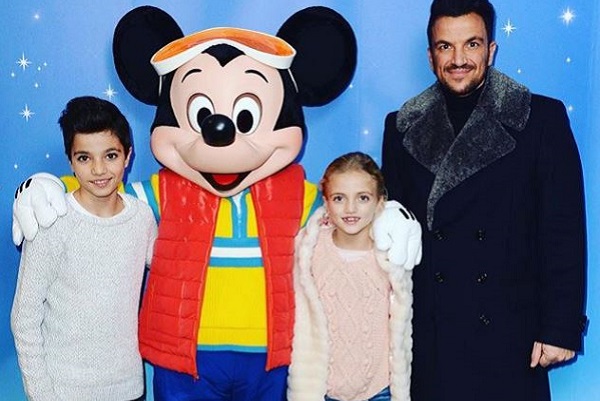 Cyber-bullying has become one of the biggest concerns for parents around the world. Children are using social media more than ever before and they are now exposed to dangers, including cyber-bullying.
Snapchat, Facebook and Twitter are some of the most popular apps amongst adolescents. While there is no harm in children chatting to their friends who live abroad on Facebook or sharing a photo from a Little Mix concert to Instagram, there is a risk of cyber-bullying occurring if they use social media.
Peter Andre is terrified that his children will be bullied like he once was, so the dad has decided to take drastic action. He has banned his eldest children- 10-year-old Princess and 12-year-old Junior- from using social media.
He opened up to The Mirror about his big decision, "I don't let Princess or Junior go on social media or things like that. I am very strict, I don't allow it in the house at all."
The protective dad admitted that his decision was heavily influenced by his past. When he was younger Peter was severely bullied.
"The bullying I went through wasn't like someone calling you names. I was beaten up pretty bad," he admitted.
The singer understands how dangerous social media can be, he wants to protect his children from being bullied like he was.
He hopes his children know that he is there to support them every second of the day. When Peter was young he struggled with sharing his problems with his mum and dad.
He shared, "I couldn't talk to my parents about my bullying because I never had that kind of relationship. I didn't want to worry them."
Peter constantly reminds his children that they can talk to him about anything, "I say to the kids, I want you to know you can talk to me. I will never judge you, I'm just here to hear you."
The NSPCC recently shared that 1.26 million children experienced extreme levels of cyber-bullying on a day-to-day basis.
Being aware of the signs of cyber-bullying can help lower the number of children suffering.
The signs include notable changes in behaviour such as becoming sad, withdrawn, angry, or lashing out, a reluctance to go to school or take part in usual social activities.
Children suffer from severe stress when they're being bullied. The stress may cause them to develop physical issues including headaches and stomach upsets.
It is vital that you encourage your children to talk if you think they're being bullied. Remind your children that you are there to offer support and that they are not a burden.
Together we can reduce the number of children who are victims of cyber-bullying.