Follow
Lifes2good
pedicure tips to get foot-fect in seconds in the comfort of your own home.
Tip 1:
Set just 30 minutes aside weekly to soak your feet. All you need is a bucket full of warm water and a few essential oils, such a lavender to soothe and lemon to stimulate circulation which can work wonders in the cold winter weather.
Tip 2:
For extremely dry feet add two tablespoons of powdered milk or baking powder to the warm water.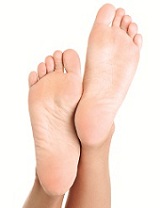 Tip 3:
When you are done with soaking, carefully rub your toenails with a toenail brush in order to get rid of the dead skin cells and surface impurities.
Tip 4:
Dry thoroughly and use the
Emjoi Micro-Pedi
from Lifes2good to instantly buff up your heels and other hard skin areas. Leaving feet soft and completely rejuvenated.
Tip 5:
Apply your favourite nail polish to your toenails. Always use base coat to stop nail polish from discoloring toe nails.