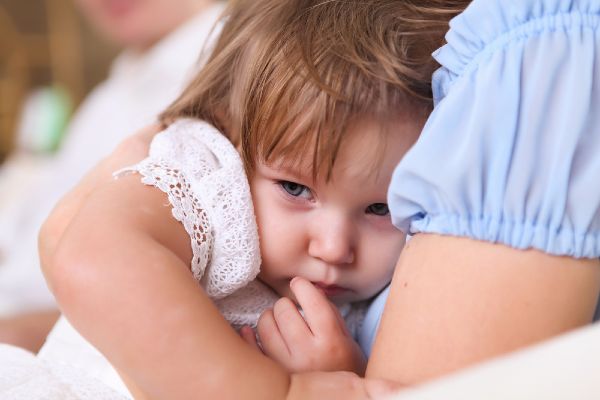 A gamekeeper has written an open letter to a young girl, warning her of the harm her birthday tradition caused.
Four-year-old Ava and her mum recently released the unicorn-shaped balloon from their home in the Greater Manchester area. Ava wrote a message on the balloon asking the person who found it to post it online, so her family could see how far the balloon travelled.
The message read, "Hello, my name is Ava. I have just turned four. If you find this, please post on Facebook to see if it gets back to my Mummy and Daddy. Love from Ava and Dave and Lucy (My Mummy and Daddy)."
Russ Edwards found the balloon in Much Wenlock, in Shropshire, and took to Facebook to warn Ava about how dangerous balloon releases are to the environment, and to animals.
He said, "While you were tucked up in bed, I was saving Bambi's life. She was choking on your birthday balloon."
Mr. Edwards wanted to warn young children about how the birthday tradition can cause serious injuries to animals.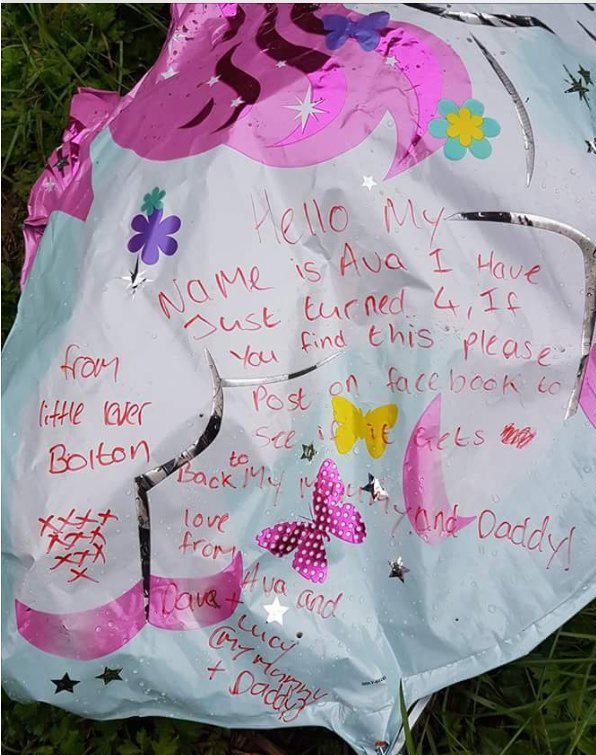 The post read:
Good morning Ava from Bolton.
You are lucky little girl, as I have found your message this morning!
I would like to wish you a happy 4th birthday.
I hope this message reaches you and other little boys and girls because, at 6:30 this morning while you were tucked up in bed, I was saving Bambi's life! She was choking on your birthday balloon!
Your balloon was found near Much Wenlock, Shropshire.
So, please, next time you test the power of social media; please, spare a thought for wildlife and livestock.
Ava's mum couldn't believe it when she saw the post, "Well this is just my luck. I am so, so, so sorry."
Her mum responded to the post and thanked him for teaching children a valuable lesson. She went on to apologise, "We did not have any intention of harming a poor animal."
The post was met with mixed responses. Numerous people felt like Russ was too harsh, and believed that the four-year-old didn't deserve to be humiliated on social media.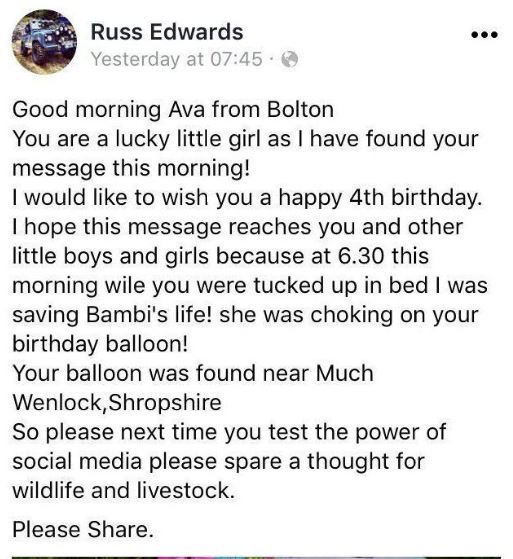 One member said, "Get a grip, this is old news. A freak accident. No one was harmed, so pipe down."
One mum praised Mr.Edwards and felt like he did the right thing, "No child is too young to learn how their actions affect others."
Mr.Edwards didn't mean to offend anyone with his "killing Bambi" comment, but he wants to raise awareness about how litter can hurt wildlife.
The post has now been removed from Facebook.
Independent Councillor Marcia D'Alton has spoken out about the damaging impact balloons have on the environment and wildlife. She has proposed that Cork bring in a ban on balloon releases and hopes the law will be passed within the next year.