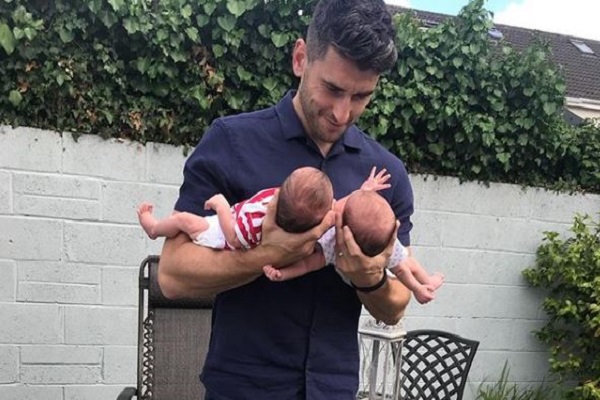 Bernard Brogan and his wife Keira welcomed two adorable baby boys earlier this month, and the GAA star is loving every minute of fatherhood.
He recently shared the cutest snap of him holding his two sons Donagh & Keadán on Instagram: "Great to get home to the lads," he wrote.
Bernard recently opened up about this new chapter of his life in an interview with 2FM's Eoghan McDermott.
"I'm absolutely delighted, every day is different. You're finding the personalities of the lads," the dad-of-two gushed.
He said he can't get enough of his "two bouncing baby boys." How sweet!
The doting dad doesn't even mind changing the babies' nappies. He told the Sunday World: "I have the nappy changing down to a fine art."
However, having two newborn twins can be quite daunting, and the dad admitted to feeling nervous from time to time.
"I am going through the emotions right now... it's half excitement, half nervousness. We are so thrilled," he shared.
Luckily, the Dublin player has wife Keira by his side , who makes it easier. "I'm so proud of her, it's amazing to watch."
Bernard announced the arrival of their twin boys on Instagram on July 13. The dad posted a black and white snap of him cradling both boys in his arms.
He captioned the snap: "Never have I felt as blessed. Thank you to my beautiful wife @keekib22 for bringing me so much joy. Welcome Donagh & Keadán Brogan 10/7/2018."