The Easter holidays are nearly upon us, which means that our kids are about to have a whole lot of free time.
School holidays tend to be a novelty for a lot of children - they will enjoy them for a day or two, but the inevitable moment always comes when they declare to you that they're "bored".
If you're looking for fun and interactive ways to keep your kids occupied over the Easter break, then why not do some Easter crafts with them?
Below, we have set out a few of our favourite, kid-friendly Easter crafts that we love to do each year. Of course, one or two of these steps will require some adult supervision, but for the most part, the kids will really enjoy taking control of these projects.
All you need is some Easter magic and a bit of inspiration, and you're good to go:
Painted Eggs
An absolute classic craft in every household that celebrates Easter!
What you need:
White eggs (preferably hard-boiled or blown-out)
Fine paint pens
Steps:
With this craft, you can truly let your creativity run wild! However, here are a few design ideas to start you off. Also, make sure you allow plenty of time for the paint to try:
Flowers: To make a flower pattern, start off with dots, and stretch them out to make a petal shape.
Leaves: To make a vine pattern, draw vertical lines from top to bottom, and add a leaf shape.
Swirls: To make a swirl pattern, create a swirl and add dots in between and around it.
Painted Basket
This one will allow your kids to get their artistic side out!
What you need:
A plain wooden basket
Craft paint (in whatever colours you wish)
Steps:
Paint wood strips on your plain wooden basket in multiple colours to create an Easter design. To make it really colourful, you could do an ombré effect, or if your kids are super artistic, they might love to paint some flowers or eggs onto it.
Then, once the paint is dry, you can fill the basket with some treats for your children (or your neighbours!) to tuck into.
Painted Cupcake Cases Wreath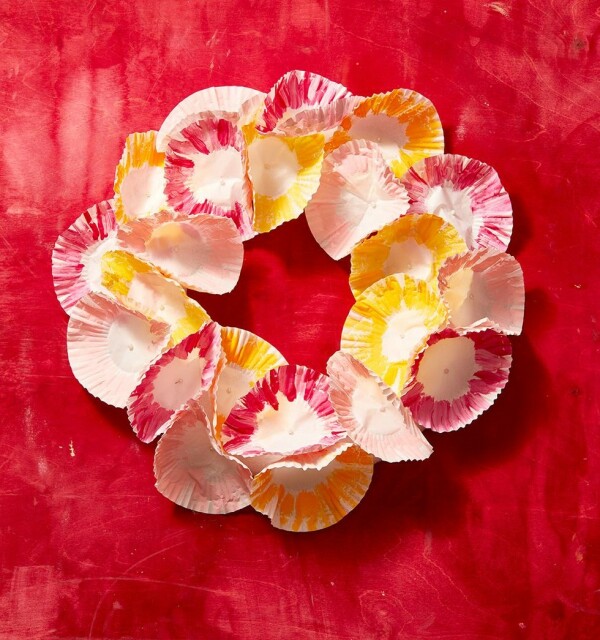 Who says cupcake cases can only be used for food? This craft is so much fun to make!
What you need:
White cupcake cases
White foam wreath form
Acrylic paint
Craft brushes
Drop cloth
Sewing pins with white tops.
Steps:
Lay down a drop cloth on your work area.
Paint each cupcake case a different colour by making brush strokes on the edges of the case. Keep the center white to make each one look like a flower.
Once all of the cases are dry, attach each one to the foam wreath form with a pin in the centre.
Now, your wreath is ready to be hung on your front door!
Baby Chick Dyed Eggs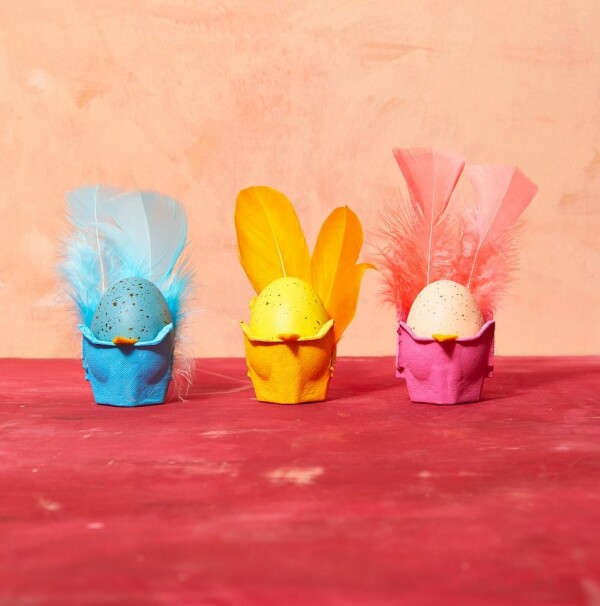 Nothing screams 'Easter' more than baby chicks and bunnies, and so we absolutely adore this activity idea!
What you need:
Coloured eggs
Egg carton
Scissors
Acrylic paint
Craft brush
Yellow felt triangles
Hot glue
Coloured feathers
Steps:
Cut out the egg cup from the egg carton, to make it a tiny seat for the egg to sit in.
Paint the egg cup with the acrylic paint. Allow it to dry fully.
Then, with a small dot of hot glue, place the felt triangle onto the edge of the egg cup to give your chick a beak.
Finally, put your coloured egg into the cup and attach a few coloured feathers behind it with some more hot glue.
Easter Egg Balloons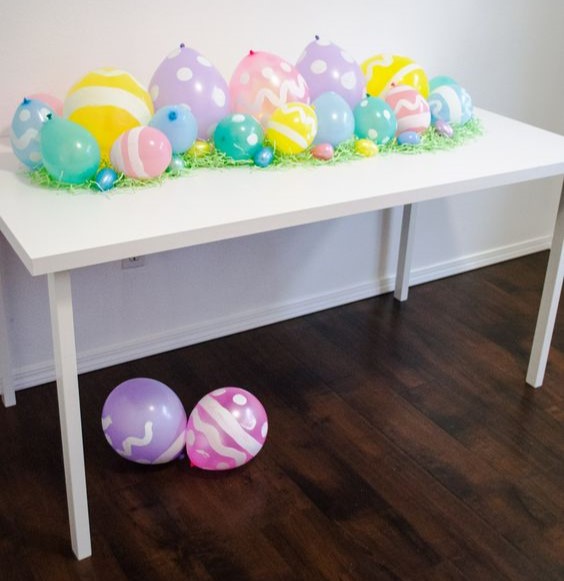 This idea is super simple but is really effective. It's also perfect for if you plan on having a party on Easter Sunday!
What you need:
Colourful balloons
White paint
Steps:
Blow up each balloon securely.
Carefully decorate each balloon to make it look like an Easter egg, with horizontal lines, waves and dots.
If desired, you can then tie a few balloons together to make them look like a 'bouquet'!